EHA - European Headache Alliance
About EHA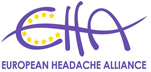 The European Headache Alliance (EHA) is a non-profit, patient umbrella group which was launched in 2006. Since then, the Alliance has grown to represent patient groups from across the continent. Each year, on September 12th, the European Headache Alliance organises European Migraine Day of Action.
Type: pan-European disease-specific organisation
Disease area: Headache disorders. Headache disorders are among the most common disorders of the nervous system. These include tension-type headache (TTH), migraine and chronic daily headache syndromes as well as the more rare disorders, cluster headache and trigeminal neuralgia.
Representative: Audrey Craven
Website: www.europeanheadachealliance.org