EPF turns 20 - Anniversary event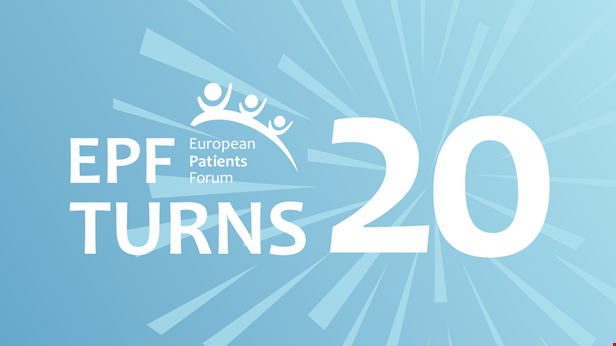 EPF turns 20. Read all the relevant information on the upcoming event below.
20 years after its founding, EPF occupies a unique position as the only cross-disease umbrella patient organisation at the European level. The 20th anniversary event will look back on the two decades of EPF, explore learnings, and build on these to inform and inspire a dialogue with participants about the future for the patient's voice and patient advocacy in Europe. The event will result in a vision for what the patient movement could achieve in 10 years.
Did you listen to our anniversary podcast series? For the episodes in the series, we've had the pleasure of speaking with EPF President, Marco Greco, and Nicola Bedlington.
Anniversary year: the future of patient advocacy
2023 is marked by 20 years of highly effective advocacy campaigns. 20 years of unique multistakeholder collaboration. 20 years of ensuring that patients have a seat at the table in the design of medicines, technologies, practices, care, and the overall strengthening of the healthcare system. 2023 is the year of our 20th anniversary.
We believe that this celebratory time is an inspiring incentive to keep up the pace in shaping the future of patient engagement together. The theme for this anniversary year is based on just that: the future, with a particular focus on a new generation of young patient leaders.
When and where?
On 28 April 2023, we celebrate key achievements, draw learnings, and co-design a collective vision for the future of the European patient community. Our 20th anniversary event takes place in the DoubleTree by Hilton hotel in Brussels. Read the draft agenda here.
Interested to join us?
We feel honoured to celebrate our anniversary with our valued community. If you are interested to register for the event on 28 April 2023, please click on the link that is applicable to your situation and fill out the form.
Our sponsors: