AMD - Age Related Macular Degeneration Alliance International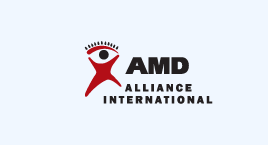 About AMD Alliance International:
AMD Alliance International strives to bring knowledge, help and hope to individuals and families around the world affected by AMD. AMD Alliance International is the only international organisation dedicated exclusively to macular disease. With 71 members in 27 countries, AMD brings together prominent leaders in ophthalmology, vision rehabilitation, research and patient and senior's advocacy. With its broad global reach, and members across wide-ranging political, cultural and geographic spectrums, AMD plays a major role in increasing awareness of macular degeneration around the world and influencing governments to recognize AMD as a health priority.
Type: Pan-European disease-specific organisation
Disease: Age-related macular degeneration (AMD). AMD is a deterioration or breakdown of the eye's macula. The macula is a small area in the retina — the light-sensitive tissue lining the back of the eye. The macula is the part of the retina that is responsible for your central vision, allowing you to see fine details clearly.
Representative: Glendon Harris
Address:
Age Related Macular Degeneration (AMD) Alliance International
105 Judd Street
WC1H 9NE London
United Kingdom

Contacts:
Glendon Harris
Tel.: +44 20 73 91 2064
info@amdalliance.org
Find more information about AMD Alliance here