Policy Officer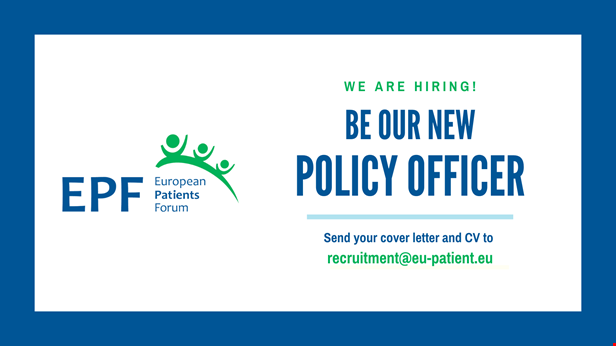 Policy Officer
Full-time (100%) position - CDI
Deadline for applications: 31 May 2023, 23:59
To start as soon as possible
The Policy Officer is responsible for leading specific policy files as assigned to her/him, in line with EPF's Annual Work Plans. The Policy Officer contributes to the drafting and implementation of EPF's policy and advocacy work in line with the organisation's Strategic Plan, also including the provision of timely policy intelligence, formulation of positions in consultation with the membership and other like-minded stakeholders and strengthening EPF's role as the key interlocutor in front of the EU Institutions.
Key responsibilities
Provide timely policy intelligence and updates on EU policy developments to the Head of Policy and the Executive Director. In doing so, the Policy Officer will also identify and raise strategic opportunities and threats to the organisation and its political agenda;
Carry out advocacy activities on assigned policy topics towards the European Commission, the European Parliament, the European Council and other EU and international Health policy stakeholders and organisations;
Represent EPF at external events and meetings relevant to EPF's political agenda. These will include attending and reporting from external events as audience and/or speaker;
Draft and disseminate position statements and other policy documents for EPF. In the drafting of these, the Policy Officer will conduct the necessary background research and consultation processes with EPF's membership;
Participate in the management and good functioning of EPF's two Working Groups (on Digital Health and Universal Access to Healthcare);
Provide input to EU-funded projects as necessary and requested, in liaison with the Projects' Team and as agreed by the Senior Management Team (this task would comprise, approximately, 20% of the working time);
Support the dissemination of policy messages (both internally and externally) relevant to the organisation's political agenda, and in close cooperation with the Communications Team;
Prepare internal briefings, speaking notes and presentations to EPF Board Members, the Executive Director, and/or the Head of Policy (as requested);
Contribute to the drafting of internal governance documents, such as annual Work Plans and other reports;
Support other work of the EPF Secretariat as assigned and needed.
Find more information about the role and the full job description here.
If you are interested in this position, please submit an application via email, including a cover letter and CV in English to recruitment@eu-patient.eu (with subject line: "Application for the position of Policy Officer - [name]").
**Please note that partial or incomplete applications based on the job posting requirements will not be accepted.