Head of Policy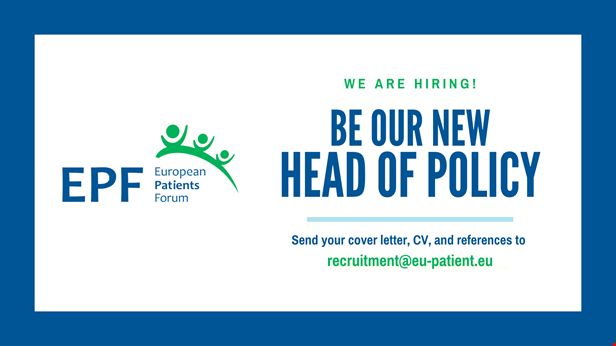 **Please note that partial or incomplete applications based on the job posting requirements will not be accepted.
Head of Policy (deadline: 22 January 2023, 23:59)
Full-time (100%) position - CDI
To start as soon as possible


The Head of Policy will develop EPF's policy and advocacy work in line with its vision and mission towards achieving the goals set out in the Strategic Plan. The Head of Policy will lead a talented and motivated policy team, work across teams to ensure synergies and impact, and contribute to the organisation's effective management and strategic planning as member of the Senior Management Team. The position requires in-depth understanding of a broad range of healthcare issues, patient advocacy, European legislative processes and politics, and senior level capacity for analysis, communication, project management, political acumen and interpersonal skills.
Find more information about the role and the full job description here.
If you are interested in this position, please submit an application via email, including a cover letter, CV in English, and two references to recruitment@eu-patient.eu (with subject line: "Application for the position of Head of Policy - [name]").