Membership and Governance Officer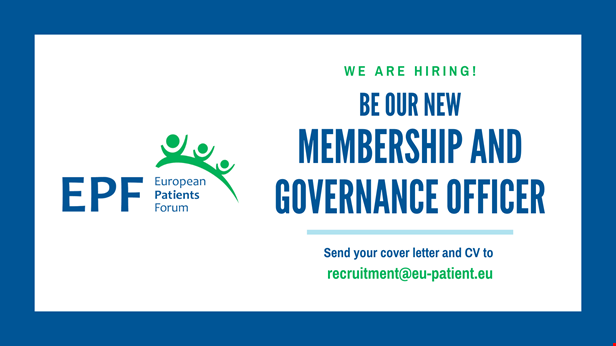 Membership and Governance Officer
Full-time (100%) position - CDI
Deadline: 30 June 2023, 23:59
To start as soon as possible
The Membership and Governance Officer at EPF guarantees a strong and engaged membership and a smooth and transparent governance. What are the tasks?
MEMBERSHIP
• Implement the membership strategy, with the supervision of Head of Membership, Governance and Capacity Building;
• Maintain good communication with EPF members, with a focus on keeping the network vibrant and maintain high members responsiveness and engagement;
• To regularly keep the members' database up to date;
• To monitor and track members' expertise, interests and engagement in EPF activities through a membership monitoring tool and involve them in relevant activities/events;
• With the supervision of the Head of Membership, Governance and Capacity Building, create and execute engaging activities for EPF members;
• Support in organising online and in-person events for the members (members' circles, webinars);
• Organise membership surveys and consultations (Survey Monkey);
• To be the main administrative contact for all EPF Members and prospective members of the network regarding their membership enquiries, applications, and onboarding;
• To maintain an efficient membership administration, including encoding data and collecting the membership fees, analysing and reporting on the membership evolution and the state of the membership;
• To support the communications team with the network internal communications;
• Occasionally attend and represent EPF at members and stakeholder events.
GOVERNANCE
• Be responsible for the members' engagement and the preparation of the documents for the Annual General Assembly AGM (i.e., board/ethics committee elections, membership applications);
• Occasionally provide support to the EPF Board and Ethics Committee when needed (scheduling meetings, collecting, and disseminating documents).
OTHER
• Supporting the EPF team with recurring and new tasks depending on need and capacity (i.e., contributing to the implementation of projects or events where EPF members are involved.)
Interested to learn more? Click here for the full job description.
If you are interested in this position, please submit an application via email, including a cover letter, CV in English, and two references to recruitment@eu-patient.eu (subject line: "Application for the position of Membership and Governance Officer")
The deadline for applications is 30 June 23:59.
Please note that partial or incomplete applications based on the job posting requirements will not be accepted.