EPF Members and Networks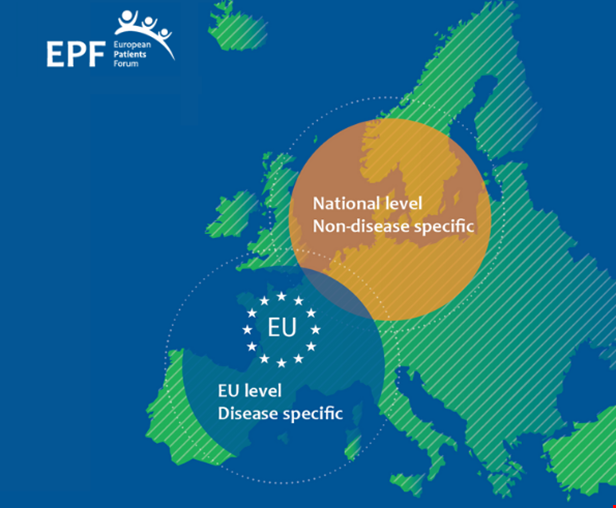 Here is how several members, partners and close collaborators have been responding to the COVID19 pandemic (please note that this webpage is updated on a daily basis).
From our Members
RARE DISEASES EUROPE (EURORDIS)
Rare Diseases Europe have published a statement addressing EU policymakers to bring to their attention the concerns and needs of people living with a rare disease, their families and carers during the current crisis (read more here>>>). EURORDIS have also created their own designated COVID19 resource centre here.
MENTAL HEALTH EUROPE (MHE)
Mental Health Europe have published a statement to remind national and EU policymakers of the critical role that human rights compliant mental health services play in contributing to a public health response during COVID-19 pandemic. They have also published tips on how to look after your mental health during COVID19.
EUROPEAN AIDS TREATMENT GROUP (EATG)
The European Aids Treatment Group have created a Facebook group to collect and share evidence related to the ongoing COVID-19 epidemic in regards to HIV and co-infections. They have also published results of their recent Rapid Assessment, undertaken to document perceptions from the HIV community of the way COVID19 is impacting their health, well-being and access to HIV related prevention, treatment and care. Read more here>>>
EUROPEAN MULTIPLE SCLEROSIS PLATFORM (EMSP)
The European Multiple Sclerosis Platform has issued a blog piece based on global recommendations, and useful resources for people with MS to inform their communities about the relationship of the virus and Multiple Sclerosis. The blog is updated on a daily basis.
EUROPEAN HAEMOPHILIA CONSORTIUM (EHC)
For World Haemophilia Day (17 April) the European Haemophilia Consortium has planned several activities for Virtual World Haemophilia Week between 20 and 24 April. Read more here>>>
WORLD DUCHENNE ORGANISATION (WDO)
The World Duchenne Organisation hosted a webinar Saturday March 14 to address concerns and questions from the DMD/BMD community. Here, four top DMD clinicians provided their input. You can find the recording and report here. They have also created created a Live Feed that is updated daily with information of interest for the Duchenne and Becker community.
The EUROPEAN NETWORK of (EX)USERS AND SURVIVORS OF PSYCHIATRY (ENUSP)
ENUSP has expressed concerns for the mental health community, with regard to people with psychosocial disabilities and their vulnerability to the COVID-19 outbreak. The statement outlines their concerns and calls national and local governments to action.Read more here>>>
THE EUROPEAN FEDERATION OF NEROLOGICAL ASSOCIATIONS (EFNA)
EFNA has launched its own COVID19 Resource Hub for Neurology Patients, containing disease-specific information as well as other resources.
INTERNATIONAL DIABETES FEDERATION (IDF) EUROPE
IDF Europe is sharing information, statements and guidelines for the diabetes community on its website. More information here>>>
PLATAFORMA DE ORGANIZACIONES DE PACIENTES
The Spanish Platform for Patient Organisations have strengthened some existing services and are in the process of launching several new projects to help reduce the impact of COVID19, and have detailed their work in a comprehensive letter to EPF. Read more here>>>
From other health networks
EIT Health
The EIT Health community have proposed several COVID19 response initiatives, all of which are best practices with the potential of being replicated in other countries.
The Hospital Clinic in Barcelona set up a dedicated email address and mailbox in EN and ES for people wishing to send support messages to COVID patients and healthcare professionals inside the hospital. Read more here>>>
A Hotline (Ligne C) currently available in FR, was set up by volunteers, patients and caregivers, intended to inform, support and orient people living with a chronic disease who need information about COVID-19. Read more here>>>
The Digital Aid project is an ad-hoc, non-profit, public health and social action gathering health innovators in a global network inspired by solidarity, a culture of dialogue and cooperation for the vulnerable. This project aims to ensure the continued, resilient provision of care in nursing homes, rehabilitation centres and mental health facilities through tailored recommendations, and bold, digital solutions during the COVID-19 pandemic. Read more here>>>
THE EUROPEAN HEART NETWORK (EHN)
National heart patient organisations (heart foundations or associations) have compiled a collection of scientifically sound advice for people who live with cardiovascular diseases to address misinformation in social media, and organised webinars where cardiologists answer their questions. Read more here>>>
The PATIENT INFORMATION FORUM (PIF)
PIF are gathering resources based on reliable and evidence-based health information. The list is split into two main sections, information for the public and information for health professionals. Read more here>>>
Do you also have an initiative to share? Send it to communications@eu-patient.eu
EPF COVID-19 Survey: Impact on Patients and Patient Organisations