EPF National Coalitions Meeting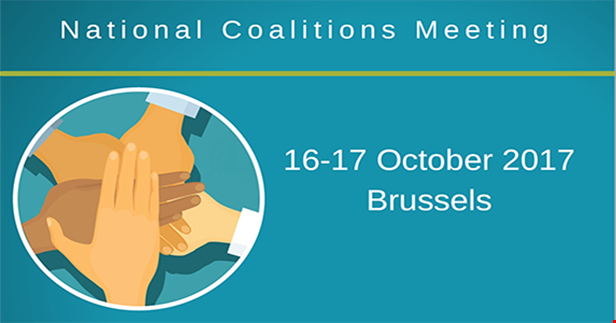 What?
The overall objective of EPF National Coalitions Meeting is to stimulate synergies between National Coalitions as well as EPF to advocate effectively at European and national level.
When?
16-17 October 2017 at the Crown Plaza Hotel - Le Palace, Brussels
Who can participate?
The event is addressed to representatives of National Coalitions members of EPF from across Europe and to selected representatives of National Coalitions.
What is on the programme? See the agenda here!
The Meeting has specific objectives:
Developing the participants' knowledge of the European Union, its institutional structure and its policies in the field of health and how to get involved in policy-making decision process
Raising awareness on how to get involved in practice in a European advocacy campaign
Building mutual understanding and cooperation among National Coalitions on a regional and European level
Designing a roadmap for a coordinated and common advocacy framework for EPF and National Coalitions.
The methodology of the meeting will be based on interaction and active involvement of participants.
Indeed, the seminar aims at building on participants' knowledge, and to be a place for experience-sharing and cross-fertilisation. The seminar will take place over one day and a half and it will include plenary sessions and workshops on advocacy tools, EU decision-making processes and effective leadership.
Interested? Show your interest!
Please note that participation in the event is on invitation only. That said, if you are interested in taking part, please check the eligibility criteria and if you match the profile, do not hesitate and contact us.
The deadline to register is 30th August 2017.
EPF will cover all expenses related to your participation at the seminar.
Please note that only online registration will be accepted and that they are subject to confirmation. A confirmation that your registration has been accepted will be sent to you via email. Due to the number of applications expected, we advise you to register as early as possible to secure your place.
For more information on this event please contact Ms Anna Trzcinska at anna.trzcinska@eu-patient.eu or + 32 (0)2 280 23 34.