Call for interest to take part in new EPF Working Group on Universal Access to Healthcare
EPF has entered a new programming period. Within this new programming period, EPF will have two topic specific internal Working Groups to guide and support two of its priority thematic areas: one on Universal Access to HealthCare and the other on Digital Health. The working groups are open to all EPF members and complement the wider EPF membership consultation process.
Universal Access to Healthcare: An EPF priority
One of EPF's objectives for this new programming period is to achieve sustainable healthcare systems for all. Within this thematic area, EPF will be working towards developing a vision of what constitutes a high-quality, safe, equitable and sustainable healthcare system from the patient perspective.
Patients' access to equitable, high-quality, patient-centred health and related care is a long-standing priority for EPF and its membership and is at the heart of the vision of the organisation. With this vision in mind, EPF strives to eliminate disparities and barriers related to access and address standards of care and health inequalities within the EU.
Past accomplishments of EPF and the Working Group on Access to Healthcare (2015-2017)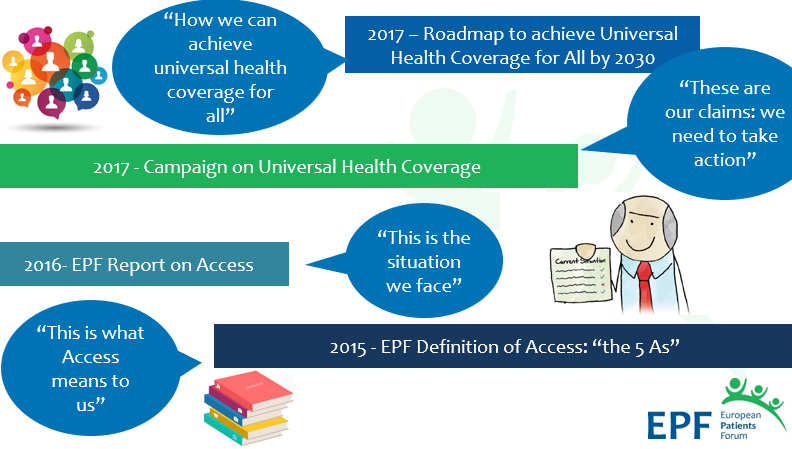 Objectives:
The aim of the working group will be to guide and support EPF's work on access to healthcare and universal health coverage for all.
At a time when implementing the United Nations Sustainable Development Agenda is a priority for world leaders, in 2018, we will be working towards promoting and implementing the recommended actions set out in EPF's Roadmap to achieving universal health coverage for all by 2030.
We will work towards building awareness and capacity of patient communities on universal health coverage, to be involved in and provide meaningful input to policy discussions in this area. In this respect, the working group will develop an information to patients on UN SDG 3 factsheet. UN SDG 3 aims to ensure healthy lives and promote well-being for all at all ages.
Furthermore, as a member of SDG Watch Europe, and the work strand on Joint High-Level Policy & Coordination for Ambitious and Integrated EU SDG Implementation, we will engage in policy and advocacy related activities and work towards highlighting the importance of health within the SDGs and reaching universal health coverage.
The working group will also have the broader role of raising awareness of health inequalities, promoting sustainable and patient-centred universal access to healthcare, informing policy-makers and various stakeholders of unmet needs and barriers to access, and supporting our members in organising national activities on the topic. In this respect, we will also support the Patient Access Partnership's efforts in organising national level roundtables on access.
Furthermore, the task force will serve as a forum for different patient organisations to share their work, relevant initiatives and exchange and explore other priorities and actions linked to the topic of Universal Access to Healthcare.
Relevant EU initiatives linked to the working group's work will include but not be limited to: EU incentives study; State of Health in the EU; European Semester and Country Specific Recommendations; EC Expert Panel Opinion on benchmarking access; EU Pillar of Social Rights.
This working group, will be facilitated by EPF, and will be made up of volunteers from the EPF membership.
How the working group will operate:
The working group will have two meetings per year.
In 2018, the group will have one face-to-face meeting, taking place at the EPF Offices (180 Chaussée d'Etterbeek, 1040 Brussels) in May or June (10h-16h, date to be decided) and one vitual meeting, taking place in in November.
Additional web meetings may take place on an ad-hoc basis.
The working group will be made up of 15 members.
Members of the task force will be expected to guide and support EPF's work on Universal Health Coverage and Access to healthcare, actively providing input and expertise, reporting back to their organisations following working group meetings.
Members of the task force will be expected to attend all meetings and provide input between meetings via e-mail.
Topical or reporting responsibilities (national level reporting for example) will be allocated at or after the first meeting.
The task force will be operational from April 2018 to December 2019.
For face-to-face meetings, travel and accommodation expenses are covered by EPF and will be booked directly by EPF's event officer.
Please see the draft terms of reference for further information on membership and members' responsibilities.
Why you should consider participating:
The working group will provide your organisation with the opportunity to guide and significantly contribute to EPF's work in this field;
The working group will provide a platform to develop coordinated patient group effort and action on universal access to healthcare;
The working group will facilitate exchange between patient organisations working on universal access to healthcare and related activities;
The working group provides an opportunity to strengthen your network with key organisations active in this field.
Who can participate and how:
EPF members are welcome to participate. The selection process will consider gender, geographic balance and will aim to have a balance between national patient coalitions and EU disease specific organisations, representing as many chronic conditions as possible.
We welcome participants who have expertise or experience either personally or as an organisation on universal access to healthcare.
For practical reasons, the working language of the task force will be English.
To participate, please send the completed application form by e-mail to katie.gallagher@eu-patient.eu by

10 April 2018

. Due to the limited number of vacant places, membership will be confirmed to applicant members following the deadline.