Best Practices for Patient Safety and Quality Improvement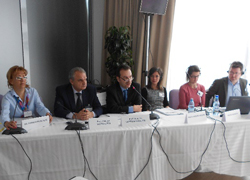 The workshop focusing on good practices in relation to Patient Safety and Quality of Care took place on 27 March 2014 in Bucharest, Romania. The event is part of the Joint Action on Patient Safety and Quality of Care Exchange Mechanism which aims at exchanging knowledge related to Good Organisational Practices and Patient Safety Practices.
The event was organised by the Romanian Contact Point in the project, the National School of Public Health, Management, and Professional Development. The invited speakers considered the importance of a patient safety culture in healthcare, looking at the Dutch Patient Safety Program and the Andalusian Patient Safety Strategy.
It emerged that improving safety culture enhances staff safety behaviours and, based on a step-wise and cyclical relationship, it could directly impact patient safety outcomes.
The Dutch model highlighted that collecting data on adverse events should not be the final objective of the system. Data should be further discussed with healthcare workers, to prepare improvement plans and evaluate them.
Similarly, the Andalusian system is looking for improvements in providing safer care in the health care organisations, based on the input provided equally by health professionals and citizens on voluntary basis.
Further presentations during the event referred to the accreditation of healthcare organisations for the quality and safety of the services, in the international and regional contexts. The Andalusian Agency's system of accreditation promotes a culture of quality and safety in the field of health and social welfare, allowing the generation of knowledge about quality.
Good Patient Safety Practices from Romania were presented in the second part of the day. Nosocomial infections control, Paediatric hospital-clinical practices and Infectious diseases hospitals-hand hygiene were referred to specific healthcare methods which lead to improvements in the safety of patients, and prevention of occupational diseases in health professionals.
As emphasised by Mr. Stephen Leyhson, from DNV GL Healthcare: "[…] Achieving a vastly safer [health system] will depend far more on major cultural change than on a new regulatory regime."
For more information concerning the event and its content, please contact Cristina Padeanu at cristina.padeanu@eu-patient.eu.