EMPATHY from the external stakeholders' perspective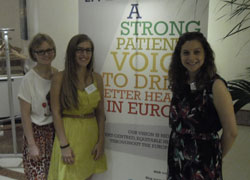 A number of external stakeholders attended the EMPATHY seminar and participated in the different policy debates to contribute to the debate with their experience.
Olga Rostkowska, European Medical Students Association
It has been a great honour to be part of such an event where the microphone was in the hands of those whose voice is sometimes not heard. Young patients kindly explained to us their daily challenges, fears, doubts and expectations.

For undergraduate health-care professionals who EMSA represents, that was a great 4-day lesson on the professional but also the personal side. Working hand in hand with young patients as equal partners is the best way to focus our efforts to better serve their needs. Putting together, around an equal table, the ones who deliver therapy and those who experience it should become a standard in developing modern approach to medicine.
Karolina Paciorek and Ljiljana Lukic, European Medical Students Association (EMSA)
Thanks to the EMPATHY seminar, we have been able to actively participate in discussions about young patients' rights and problems in EU member states.

We recommend more communication between all stakeholders, policy makers, health professionals and young patients as well as patients groups. Only this way we can provide the best health care and human approach to children and young people. It has been an intense experience and will serve us in our future.
Jurate Svarcaite, Pharmaceutical Group of the European Union (PGEU)
My overall experience of the EMPATHY seminar was excellent. Stories and experiences of young and often vulnerable patients were overwhelming and enlightening. It was great to listen to their real problems and feelings and think together about possible solutions.

It helped me to understand how different the needs and expectations of this group of patients are and I will certainly use this experience in my job to inform future policies of PGEU. We within the pharmacists' community can certainly do more for and together with young adults who are born or diagnosed with chronic conditions.
Camille Bullot, Assembly of European Regions (AER)
Health is a burning topic in Europe. Stakeholders often meet at a table to discuss solutions addressed to patients. They discuss the policies to adopt, the tools to implement, the services to provide, the priority areas for researchers... The only problem is: the patient is missing at that table!

The EMPATHY Seminar filled in a gap by connecting these stakeholders to the person they work for, by putting patients really at the centre. Regional politicians have a lot to learn from these young patients.

The EMPATHY Seminar raised a lot of interesting questions: who is responsible for including and empowering the patient? How to ease the difficult transition between paediatric care and the "adult environment"?

Young patients sent a strong message to European stakeholders: "Chronic diseases are not a barrier to employment, leisure, education. It is the society's role to comprehend that they have to do a little more for everyone to feel better".

AER has always been convinced that patient needs to be at the centre: we will keep conveying the message in the regions.
Guilherme Monteiro Ferrera, European Pharmaceutical Students Associations (EPSA)
By participating in the EMPATHY seminar I got the impression that the will of younger patients to share their views and concerns is guaranteed by their active involvement in different local and national patients' advocate groups.

Patients are an important voice whenever healthcare is concerned and the training of young advocates for the greater good of our healthcare systems is one of the greater assets of this project.

From my point of view, the seminar provided not only a platform for sharing experiences but also some tools for these young patients to become better advocates for their causes.