EMPATHY seen through medical students' lens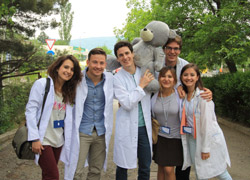 The EMPATHY project or "Europe meets Young Patients" is a four-day seminar that will take place in Brussels on 8-11 July. Young patients will have the chance to address their needs to various health stakeholders. The European Medical Students' Association (EMSA) will attend this event that they consider as an "amazing opportunity where direct contact with young patients involved".
As part of their formation, medical students often visit pediatric institutions. "Such initiatives allow them to see the everyday activities of their future patients, talk with their families, discuss the medical aspects of the disease and train themselves in understanding the needs of young people whose life has been turned around 180 degrees by a sudden, completely unexpected or even fatal diagnosis" says Olga Rostkowska from EMSA.

She continues: "We see EMPATHY as a similar endeavour. It will allow future doctors to better comprehend the needs and expectations of their patients as well as step into their shoes through the simulation and role-play". Such an experience is rarely assured by the academic curricula whereas it remains vital for greater understanding of a patient who should be a partner in the fight for his or her quality of life - not just a carrier of a disease.

She adds: "We would like to see how healthcare systems are perceived by patients under 30. What are their fears and doubts regarding the future possibilities of finding a job, having a relationship or advancing education when the diagnosis is added to the pile of early life experience? "

"Only by connecting with them we, as healthcare workers, can focus our efforts to serve more adequately their needs. Putting together, around an equal table, the ones who deliver therapy and those who experience it should become a standard in developing modern approach to medicine" she concludes.

For further information please visit the EMPATHY webpage or contact Valentina Strammiello, the Project Officer at valentina.strammiello@eu-patient.eu.