EPF Youth Group to shape the EMPATHY project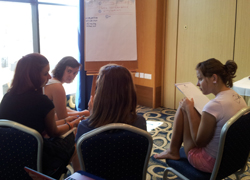 The Youth Group laid the foundations of its work for the next months during its second Annual Youth Meeting. This year's meeting served as the springboard of the annual meeting of the Youth Group and as the kick-off meeting of the first youth project "EMPATHY: Europe Meets Young Patients".
Our Programme team, led by Walter Atzori and Özgün Ünver, as well as our Board Member, Philip Chircop, met the Youth Group from 31 August until 2 September in Qawra, Malta. They helped the young representatives to get familiar with EPF work for 2012-2013. It was the opportunity for them to exchange information and best practices with regard to the ways youth groups operate within various patient organisations across the EU.
The meeting was also the occasion to involve the Youth Group in the implementation of the EMPATHY project where they will hold responsibilities. EMPATHY aims to organise a four-day seminar in mid-2013 for young patients, European policy-makers, and stakeholder actors in the fields of health, education, social and youth policy. The purpose is to promote a more holistic approach to addressing young patients' needs in EU-level decision-making processes. Thanks to this meeting, the young people acquired a better understanding of the project's objectives and their role within this first EPF youth project.

Finally the Youth Group got an overview of the EPF Strategic Planning process. They took this occasion to sum up what issues need to be taken into account in this process from their perspective. They all declared they wanted to ensure that the young patient's perspective is taken into account as "being a patient means going through various stages in life with a number of potential disadvantages associated to having a long term condition which can create discriminatory barriers". At the end of the meeting, Arron Gill was nominated to take part in the EPF Strategic Planning Working Group as the representative of the Youth Group, which awaits the approval of the EPF Board.

Martha Carabott, one of the participants , expressed that she was very satisfied to have attended the event by saying "Thank you for the lovely and productive meeting. I really enjoyed it and am looking forward to work on the EMPATHY seminar!"

The next step is to raise awareness about the project EMPATHY. To make it more visible, a logo will be created and an info sheet will be distributed in order to disseminate the project information locally. The Youth Group will also work on fixing a date for the EMPATHY Seminar and on identifying and recruiting participants.