EPF to set the scene for discussion on patient involvement in HTA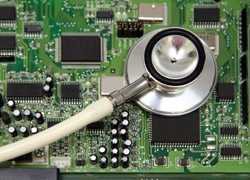 EPF Programme Manager Liuska Sanna presented the preliminary results of the EPF Health Technology Assessment (HTA) Survey in the 2012 HTA International Conference on 21 June in Bilbao, Spain. Results of our HTA Survey set the scene for the discussion on existing patient involvement in HTA and whether training and education needs were being taken into account.
Liuska Sanna took part in the panel session "Empowering Patients to Achieve Maximum Value from their Involvement: HTA Agencies and Patient Organisations Working Together on Education and Training". The objective of this session was to promote dialogue between HTA agencies and patient organisations. They need to exchange information on current activities that improve patient group capacity to contribute effectively with regard to involvement in HTA.
Major topics discussed during the panel session included patient empowerment, importance of and challenges to patient engagement, the activities/tools/resources implemented or provided by various organisations to facilitate patient engagement, and recommended next steps for patient empowerment.
In 2011, EPF conducted an HTA research following up on the EPF HTA Seminar held in May 2010, where patient organisations called for support to be involved in HTA. The research was divided into three stages in order to collect primary data from three main stakeholder groups: HTA agencies (first stage), HTA appraisal committees/policy makers (second stage), and patients' organisations (third stage). The aim of the research was to identify the current situation, good practices in place and the challenges of patient involvement in HTA in European countries.
A comprehensive report with recommendations and good practice toolkit will be produced by the end of the year in order to contribute this knowledge to the process of informing and building the capacity of patients' organisations, HTA agencies and HTA appraisal committees and decision-makers in Europe. Thereport for the first stage is already available and the reports for the second and third stages are at the last phase of analysis and will be accessible by autumn 2012.