EUPATI project looks to the future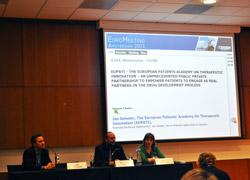 The EUPATI project held an afternoon session during the final day of the DIA EuroMeeting 2013 in Amsterdam on 6 March. The project consortium provided a progress report on its first year, outlined activities underway to achieve near term objectives and prepared for its annual conference on 19 April in Rome.
Jan Geissler, EUPATI Director, described the shift in the role of patients he has witnessed during his twelve years since becoming a patient advocate. "Patients are no longer limited in their role as research subjects, many have evolved into information providers, advisors and reviewers and more recently co-researchers and a driving force in healthcare discussions." He continued, "Advocacy has been difficult journey for me and I'd like other advocates in Europe to have an easier route than my own to help them understand the medicines development process, which is where EUPATI comes in."
To help the Patient Academy developing content and resources, the project needs to clarify what resources on medicines development are already available and being used. It is also important to explore the views and perception of all stakeholders in the medicines development process to build a strong foundation.
The first resource review provided a snapshot from over 300 submissions in the early months of the project. It allowed highlighting areas where further materials are required, specifically on personalised and predictive medicine, pharmacoeconomics, and patient roles and responsibilities. A list of identified resources is now available on the EUPATI website. If you know of any resources we have missed, please submit them using the form!
The five-year project that aims at educating patients and citizens about therapeutic innovation looks already to the future. Focus groups will be held in the UK, Spain and Poland and associated with EUPATI events across Europe, to understand the views of all stakeholders in the medicines development process. EUPATI will also launch a survey in April to reach approximately 8,000 people; including individuals who either do not belong to a patient organisation, or have not quite reached advocacy status. Attendees were urged to look out for this and take part.
EUPATI's first Europe-wide conference in Rome on April 19 will also look to 2020 and three years beyond the end of the project. The question theme will be "How will the tools and knowledge provided through EUPATI make a difference to patients' advocates, patients' organisations and the public?"
If you are interested in participating at the conference, please apply here.
Various social media channels are available to feed in thoughts keep in touch and follow EUPATI on Twitter, Facebook, LinkedIn or Google+.
For more information, contact Jan Geissler, EUPATI Director.