Europe meets young patients in July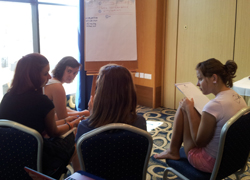 The EMPATHY project or "Europe meets Young Patients" is now entering its implementation phase. The project consists of a four-day seminar that will take place in Brussels on 8-11 July. The EPF Youth Group is organising the event with the support of EPF.
The event will gather young patients from several EU Countries. They will have the chance to meet with experienced patient leaders, EU-level policy makers, stakeholders groups and patient organisations' representatives.
The main purpose is to establish an active dialogue among all the actors attending the seminar. It ultimately intends to promote a more holistic approach to address young patients' needs in EU decision-making processes.
The seminar has been innovatively designed to ensure young patients' active participation. Activities will be various including policy discussions, role plays, trainings, interviews' simulations and social events.
This is EPF's first youth project. The idea was initially identified by the EPF Youth Group during the 2011 annual meeting and was further developed by the EPF Secretariat in the vein of the EPF Youth Strategy.
"With this seminar, EPF would like to provide young patients with appropriate tools and avenues to put their specific needs forward. This would contribute to strengthening their representatives' skills and self-confidence while reinforcing their representation in patient organisations. EPF will invest in strong cooperation between young patients and adult patient advocates. Ultimately, this should lead to health policies that are more responsive to young patients' needs", said Walter Atzori, EPF Senior Programme Officer.
For further information please visit the EMPATHY webpage or contact Walter Atzori, the Senior Programme Officer and Valentina Strammiello, the Project Officer.