European Parliament Elections campaign's next steps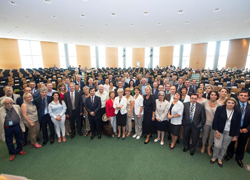 While the May elections are no more than a distant memory for many, European leaders have been working hard to shape the landscape of the future Parliament (EP) and Commission (EC). The lists of Parliament Committees were published in early July; some top jobs were defined; the hearings of potential Commissioners are on the horizon; and the possibility of creating an EP Health Intergroup is under discussion.
So, what did you miss over summer?

The European Parliament's 22 new committees held their first meeting on 7 July. The Committee on Environment, Public Health and Food Safety (pictured) elected Giovanni La Via (EPP, Italy) as chair and will next convene on 3 September in Brussels.
Jean-Claude Juncker held meetings with the EP political groups to gain support for his candidacy in the election on 15 July. He has been nominated as the next President of the European Commission while Martin Schulz has been designated for a second time as President of the European Parliament.
After being questioned by members of European parliamentary committees, four new commissioners have been approved, replacing those who left to become MEPs. They will serve for the rest of the Barroso Commission's current term which is scheduled to end on 31 October.
The new commissioners are Jyrki Katainen (Finland – economic and monetary affairs) replacing Olli Rehn; Ferdinando Nelli Feroci (Italy – industry and entrepreneurship) replacing Antonio Tajani; Martine Reicherts (Luxembourg – justice and fundamental rights) replacing Viviane Reding and Jacek Dominik (Poland – budgets) replacing Janusz Lewandowski.
The Italian Presidency of the Council of the European Union which started on 1 July outlined its programme "Europe, a fresh start". They will make patient safety and quality of care; health research; and medical devices regulations their priorities in the field of health, and promise to involve the third sector such as healthcare organisations in their work.
What is next?

As a part of our campaign work we plan to submit proposals for questions to the European Parliament's hearings of the Commissioners-designate. We will frame these around our campaign's key asks. We will share our resources with our members to ensure we coordinate our advocacy efforts.
We are currently pursuing the idea of creating an Intergroup on Health in the European Parliament together with the European Public Health Alliance. We will continue to forge alliances with peers to keep health on the European political agenda and ensure a strong platform for debating health-related policies that will arise between 2014 and 2019.
For more information, please contact our Communication Officer Cynthia Bonsignore at cynthia.bonsignore@eu-patient.eu.
Infographics: Who is who at the European Parliament (PDF) /Picture: copyright European Parliament, 2014