European Patients' Academy: up, running and real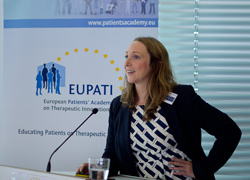 The European Patients' Academy for Therapeutic Innovation (EUPATI) has released a report about its first steps towards the development of pan-European and national infrastructures after its inaugural regional workshop, held in Frankfurt, Germany, on 5 September 2012. On the agenda: National Liaison Teams and National Platforms, network and communication opportunities, the collection of educational material and the delivery of trainings.
The first point on the agenda concerned the National Liaison Teams and National Platforms. The idea is that the National Liaison Teams – including at least one representative each from patient organisations, academia and industry – should kick-start activity at the national level, leading to the foundation of EUPATI National Platforms, which would, among other things, roll out the Patient Academy's training and adapt it to national needs.

Umbrella patient organisations were identified as a good starting point to select the National Liaison Teams and EUPATI will take the opportunity of countries without umbrella organisations to bring people together. Encouragingly, delegates from 14 countries signed up to an initial expression of interest in being part of National Liaison Teams or EUPATI National Platforms.

Participants acknowledged that the success of EUPATI will depend on networks. Taking up this network message they discussed about how to raise awareness for EUPATI across Europe. It was decided that European patient support groups must use their contact facilities to tell their members about the Academy and encourage them to connect. The importance of the three-way partnership between patients, academia and industry was raised, precising that it had to be led by patients.

EUPATI has made good progress in collecting training and education information about many aspects of the medicines development process. However, three areas seem stubbornly sparse: personalised and predictive medicine, pharmaco-economics, health economics and health technology assessment; the safety and risk/benefit assessment of medicines. Suggestions on enhancing the material came to the fore in order to collect the missing data.

Once sufficient material is collected and the list of topics on which patients should be educated is drawn up, the next question was about the delivery of training and education.

They agreed on the criteria for admission such as motivation and time to commit and also on the methodology deciding that participants should be able to choose from among different sources and methods.

The project will focus on 12 European countries, with materials in the seven most frequently spoken European languages.It will have six core areas:
the medicines development process, from start to finish
personalised and predictive medicine
drug safety and risk/benefit assessments
pharmaco-economics, health economics and health technology assessment
the design and objectives of clinical trials
patients' roles and responsibilities in the development of innovative medicines
Project members have already identified three distinct training audiences and at the most specialised level, EUPATI will offer a certificated diploma course, aiming to train at least 100 patient experts to become fully confident and capable in all aspects of the medicines development process.
In parallel, EUPATI will develop an Education Toolbox – primarily online – offering patients a choice of subjects to learn about; And finally, at the most general level, EUPATI will offer an online portal for use by individuals or patient organisations that will not just have all the available material online and searchable, but will also be combined with the ability to ask questions.

Contact persons: Jan Geissler, EUPATI Director, or Ingrid Heyne, EUPATI Network Manager.

For more information: EUPATI website.