Final report to close Chain of Trust project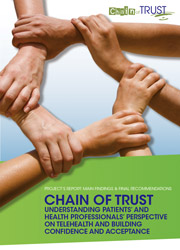 The Chain of Trust project comes to an end and this is now time to take stock with a final report. Various activities have enabled the Consortium to gather qualitative information that reflects the voice of telehealth* users, both on common issues as well as aspects particular to the specific groups. With these findings the partners have formulated policy recommendations to allow telehealth to take the next step.
Entitled "Understanding patients' and health professionals' perspective on telehealth and building confidence and acceptance", the European project Chain of Trust was launched in January 2011 to overcome the limited use of thelehealth. There was in fact little knowledge and evidence about how those who are ultimately meant to use telehealth services – patients, doctors, pharmacists, nurses - actually perceive and experience telehealth.

On the basis of the results of the Chain of Trust project, it can be argued that many elements are shaping user acceptance of telehealth and these need to be considered thoroughly by policy makers, health authorities, industry, as well as patient and healthcare professional organisations.
In this respect, it is important for fostering acceptance among users to ensure that the following elements are addressed:
To accept telehealth, patients and health professionals want it to be user-centric as opposed to technology-driven;
Telehealth should not negatively affect the patient–health professional relationship, but rather aim to increase mutual trust;
Telehealth needs to deliver real benefits and add value to users in relation to solely conventional healthcare;
Health professionals and patients will accept telehealth services only as long as they have at least the same safety and reliability standard as conventional health services;
Self-confidence and competence in using telehealth services and mutual confidence between users are crucial and should not be underestimated.
For more details about the project findings and political recommendations, please read the full report in the right-hand column of this page.

For more information about the project, please visit the website: www.chainoftrust.eu.



*Telehealth refers to the delivery of healthcare at a distance, using information and telecommunications technology and specially-adapted equipment. It allows health professionals to diagnose, treat, care, assess and monitor patients without requiring both individuals to be physically in the same location.
Related Information

Chain of Trust Final Report