First conference on the patients' perspective on nutrition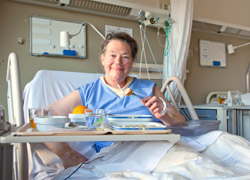 Patients have particular – and diverse - needs as regard nutrition, which are currently unmet across the EU. The conference 'EU Patient groups & the relevance of nutrition' held on 4 July in Brussels successfully brought together patients groups from various disease areas, and various stakeholders working on health and nutrition. They identified common priorities and recommendations, and discussed the way forward to continue working together.
EPF Board Member Robert Johnstone opened the conference stating: "I would like to reiterate that patients have a fundamental right and wish to be meaningfully involved in all aspects concerning their health and care, nutrition included, to achieve the right changes in our healthcare system and improve patients' quality of life"
The conference showed that nutrition is an important, though often neglected part of providing a holistic approach to care. Patient representatives agreed that there is a need to step up collaboration in this field and came forward with key recommendations encompassing many areas such as care, research, labelling and information, or reimbursement of medical nutritional products.
EPF supported the meeting that was organized in joint cooperation by the Patients Network for Medical Research and Health (EGAN), one of our member, and the European Health and Nutrition Alliance (ENHA). It is a follow up to the signature of a memorandum of understanding that was signed with our organisations to confirm our willingness and interest to define a framework for mutual cooperation. EPF will also participate at the Age related under nutrition action in the European Innovation Partnership on Active and Healthy Ageing to highlight the vital role of prevention in tackling under-nutrition and malnutrition in older people, thereby ensuring quality of life and wellbeing into later life.
Presentations given at the conference will be available soon on EGAN's website. Recommendations from delegates participating to this event will feed into an EU patient nutritional agenda which will be developed in the coming months.