How can we resource patient organisations in times of austerity?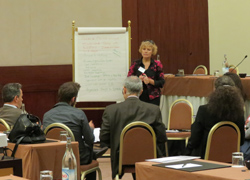 The Fifth EPF Regional Advocacy Seminar took place in Lisbon, Portugal on 25-26 October 2012. The theme of this year's seminar was "Fundraising: Resourcing Patient Organisations for a strong Patient Movement". This was a good opportunity for Patients' Organisations to learn how to diversify their funding in order to maintain their capacity and effectiveness to advocate for patient' rights.
In this climate of crisis and austerity it is of upmost importance that Patients' Organisations achieve financial sustainability. The overriding question of the EPF seminar organised in collaboration with Associação Protectora dos Diabéticos de Portugal (Diabetes Association of Portugal) was: "where to find the resources?"
In the first day of the seminar, one panellist from each participating country presented the sources and current status of funding for their organisations and patient organisations in general in their countries. It emerged that most of them are most funded through private donations rather than public, except for Spain. National-level patient organisations find the procedure of accessing to EU funds especially difficult and complicated. On the other hand, national public funds are also very scarce and discontinuous, which puts sustainability at risk.
The panellists emphasised the need to diversify their sources of funding in order to achieve financial sustainability. They felt it is also very important for patient organisations to invest in individual donor programmes and have inspirational and innovative ideas for fundraising. Finally, they pointed out to the need for ongoing evaluation in order to measure the efficiency of the fundraising activities carried out.
Nicola Bedlington, EPF Director, introduce the main EU funding opportunities and their challenges. She expressed the general principles for national-level patient organisations to participate in EU projects.
The following sessions trained participants on how to develop a clear and step by step fundraising strategy for patient organisations depending on their specific needs such as capacity, staff, constituency, objectives, etc. The participants also worked together to identify the essential characteristics of successful fundraising and a successful fundraiser. Fundraising experts trained participants on what they should and should not do in searching for funding and formulated concrete recommendations.
The report of the seminar will soon be published as toolkit. It will provide a detailed overview of the key discussions and outcomes as well as some tips and suggestions for patient organisations that want to increase their fundraising capacity.
The presentations of the seminar are available here.