Last run up to the 2014 EU Elections!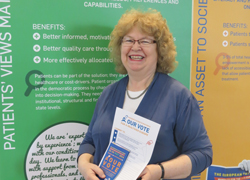 With the EU elections fast approaching on 22-25 May 2014, we showed we are also part of the action and the solution. More than 40 Members of the European Parliament and national candidates have signed our Campaign Manifesto "Patients + Participation = Our Vote For a Healthier Europe" and therefore committed to include a patients' perspective in their work. Some quotes.
The demographic developments in our society -with the increasing life expectancy, with the growing number of older persons and reducing number of young people due to getting down of the birth rate- are the key challenges of our society. […] That's why I find this manifesto a very, very worthy and helpful tool to foster the future challenges in the successful way." MEP Heinz K. Becker (EPP, Austria) – Link to the full video interview on YouTube

"I decided to support the campaign because I think, increasingly in terms of healthcare policy, […] we're hearing concerns about people who are not compliant with their medication or their healthcare regime, […] Where's the voice of the people who are also engaged in this process? Patients are not sort of passive individuals to whom things happen; they're active people. They are people who are actively—should be- actively engaged within determining their own healthcare." MEP Jean Lambert (G-EFA, UK) (pictured) – Link to the full video interview on YouTube

"The campaign of the European Patients' Forum is more than welcome because health policies are still a point in the European politics to be developed and that patients are often the weakest part of the chain." MEP Dagmar Roth-Behrendt (S&D, Germany) – link to the full video interview on YouTube

"I absolutely welcome the EPF campaign as this is a strong preparation for the commitment of EU politicians in issues that have been for many years neglected." MEP Antoniya Parvanova (ALDE, Bulgaria) – link to the full video interview on YouTube

"I think that dialogue is the most powerful arm we, human beings, have to both deal and resolve problems. Dialogue means participation. So, in any area of human activities dialogue and participation are main foundations to build up sustainable structures. In order to achieve that, you should take into account the opinions of all the stakeholders. That applies for healthcare systems as well." MEP Irazabalbeita Fernandéz (G-EFA, Spain)

"In the wake of the economic crisis, a strong patients' voice is vital to help shape cost-effective, sustainable health systems that benefit all Europeans. We must take concrete measures to involve patients in research, innovation, and reporting in all aspects of healthcare and ensure that they can make their voices heard through patients' organisations. We must also take steps to ensure that patients are empowered and educated about their healthcare choices, so that they may be better equipped to help create the healthcare they receive. I commit to including the patients' perspective in my work." MEP Stephen Hughes (S&D, UK)

"We have to give the patients the opportunity to help improving healthcare systems because it is not only good for patients but also for healthcare."MEP Karin Kadenbach (S&D, Austria)

"I have been very active in promoting health and prevention since my first election to the EP (2004). I will continue in the same spirit in the next legislature - for more and better health for all EU citizens. My office is and will stay open for patients' organisations. I count on your active support!" MEP and Health Award-winner Alojz Peterle (EPP, Slovenia)

"Jean-Claude Juncker and his team are following your initiative with interest and will certainly take it into account when designing the political programme of the next Commission after the European Parliament elections. […] Out of respect for these elections and the voters, Jean-Claude Juncker has decided, as a matter of principle, not to sign up to any specific proposal or initiatives until the voters have spoken on 22-25 May." EPP Candidate for EC Presidency Jean-Claude Juncker
On 8 April 2014, we partnered together with EPHA (European Public Health Alliance), EGA (European Generic medicines Association), and AIM (Association International des Mutualités) to address universal access to health as a priority of the forthcoming European Parliament. This event was hosted by Andrey Kovatchev (EPP, Bulgaria) and attended by MEP Rebecca Taylor (ALDE, UK) and Angelika Werthmann (ALDE, Austria) who all signed our Manifesto. Please read this article for more information about our work in access to healthcare.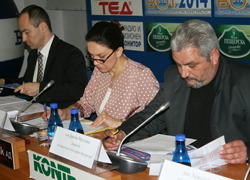 On 14 April 2014, our member organisation, the National Patients Organisation (NPO, Bulgaria), collaborated with the Bulgarian Medical Association to hold a public debate structured around our 2014 Elections Campaign Manifesto. Three European Parliament candidates participated in the debate: Dr. Antonia Parvanova (United Democrats Party), Dr. Andrey Kovachev (GERB) and Dr. Dragosh Metodiev (ABR). The debate moderators emphasised a few crucial topics, to which all of the participants agreed that work should begin in the next session of the European Parliament: healthcare policy as an agenda priority at EU level; wider and more effective involvement of patients and experts in the creation of healthcare policy, research and innovation; involvement and support at all levels of initiatives on equal access to quality healthcare for all European citizens; the creation of a specialised healthcare committee in the European Parliament. The recording of the event will be made available on this website, which contains more information about the debate and positions of the participants.
When we will cast our ballot on 22-25 May 2014, we will be confident to vote for patients' friendly candidates who work towards achieving this ideal healthcare where patients are part of the solution: list of all MEP who have signed the EPF Manifesto
For more information about the campaign, please visit http://www.eu-patient.eu/whatwedo/EPFCampaign2014Elections/ or contact EPF Communication Officer cynthia.bonsignore@eu-patient.eu.