Launch of the Under Pressure website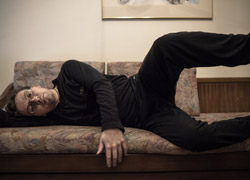 The European Multiple Sclerosis Platform (EMSP) launched, on May 29 - World multiple sclerosis (MS) Day 2013 – the Under Pressure website. The multimedia platform aims to reveal discrepancies in the treatment, employment and empowerment of people with MS across Europe.
Those who attended our meetings at the end of May will have discovered evocative pictures illustrating challenges faced by people with MS in Europe. These are part of the Under Pressure campaign initiated by EMSP and their members.

Through a photo exhibition, a booklet, video documentaries and this website containing around 600 strong pictures, Under Pressure communicates the experience of living with MS not only in a personal way, but also in a political way.

This project illustrates that the conditions of people affected by MS are inextricably linked with the country they live in. EMSP's ongoing project – the MS Barometer – has indicated that, since 2008, austerity measures have had an increasing impact on health costs. In some countries the conditions for people with MS are getting worse rather than better.

This adds to the relentless pressure which comes from a having a disease that attacks the central nervous system and that has an unpredictable course. As a major cause of disability in young adults, MS creates a tremendous burden not only on the individuals themselves, but also on their families and in their communities.

Please visit the website at www.underpressureproject.eu.
* Picture source: Thessaloniki, Greece, 10/2011 • Before the economic crisis hit, Manolis Tsatsiadis used swimming as a form of physiotherapy; after an hour in the water, he could walk comfortably for about 30 minutes. When the pool took measures to save money on heating, he had to stop: colder water worsens his tremors. Manolis' meagre disability pension barely makes ends meet: his family provides financial help for physiotherapy and household essentials. Credit: Maximiliano Braun