Learning from the experience of involving patients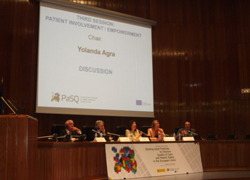 The Spanish Ministry of Health, Social Services and Equality organised a European Conference on 12 June 2014 in Madrid, Spain. The aim was to exchange experiences of good organisational and patient safety practices around quality of care. The event was held under the framework of the European Union Network for Patient Safety and Quality of Care (PaSQ).
This exchange mechanism was structured in three sessions: quality of healthcare, patient involvement and empowerment, and patient safety. The discussions were based on the practices sent by the member states and regions participating in the Joint Action. The Spanish Ministry of Health, Social Services and Equality is the national contact point.
The session on patient involvement and empowerment was particularly important to EPF. We took the opportunity to document how to engage patients, individually or collectively, in setting levels of quality for the healthcare systems.
Ms. June Boulger presented the Irish case of the National Healthcare Charter. She showed principles concerning the delivery of effective and safe health services that were initially prepared by the patients and citizens through a public consultation process. Mrs. Margaret Murphy, a WHO Patient Safety Champion was the driving force of this patients' consultation.
Mrs. Joan Heffernan introduced a second practice from Ireland with an example of engaging service users and their advocates in setting National Standards for Safer Better Healthcare. These were involved from the beginning of the consultation process in the Advisory group that provided with an input to the standards' development.
A third presentation delivered by Dr. Sam Oussedik, Orthopaedic Surgeon at the University College London Hospitals, showed scientifically proven data concerning the effectiveness of patient education. He explained that including a pre-assessment phase in the therapeutic process of hip and knee replacement reduced the length of hospital stay, and implicitly the patient's recovery. The reason was that patients were informed about the medical procedure and the recovery therapy, to understand what was expected from them.
Mrs. Carmen Pallás of a Spanish Hospital, dedicated her session to patient involvement and empowerment introducing the Newborn Individualised Developmental Care and Assessment Programme (NIDCAP). This programme is looking for a better approach of care provided to the newborns, and families are continuously present and involved as partners.
All the presentations from the conference are available here.
Public good practices collected through the PaSQ Joint Action are available on the project's website.
For more information, please contact EPF project Officer Cristina Padeanu at Cristina.Padeanu@eu-patient.eu.