Long-term Access to Quality Healthcare in Europe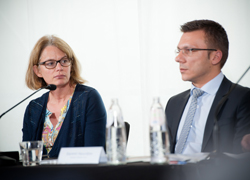 EPF is collaborating closely with the National Patient Organisation of Bulgaria (NPO) to put in place a multi-stakeholder partnership on access to healthcare. The partners met on 20 March 2014 and EPF also hosted the conference "Long-term Access to Quality Healthcare in Europe" as a fringe meeting during the EU summit on Chronic Diseases held on 3-4 April 2014 in Brussels.
On 20 March 2014 the Access Partnership held a working meeting organised by NPO and EPF, who will be the co-founding members of the platform to ensure it is patient-led. At the meeting, participants worked on a comprehensive definition of access, which includes availability, adequacy, accessibility, appropriateness and affordability. The partnership aims to raise the issue of health inequalities from a patient's perspective and access to healthcare up in the agenda at EU level. Partners want to foster more action and cooperation between member states and institutions to tackle roadblocks to access in the next legislative term starting after the EU elections 2014.
The partnership is also conducting a mapping exercise to have a clear overview of current initiatives on access to healthcare. It will help to identify effectively opportunities for replication, and scale up of good practice and synergies between partners, as well as gaps that the partnership will need to address.
Linked to this, MEPs have established an informal group on health inequalities and have submitted a written question to the Commission on its role in achieving progress in ensuring equal access to quality healthcare for all EU citizens. The answer is available here.
DG SANCO Head of Unit Nathalie Chaze (pictured above) acknowledged on 3 April 2014 that there are important disparities in healthcare. She also flagged the amount of work done by the EU to address these but highlighted the fact that access is difficult to measure. She concluded that we need to define what we mean by access, and what patients really have access to.
Stanimir Hasurdjiev, EPF Board Member and NPO Chairman (also pictured above), explained the rationale behind the Access Partnership. He stated that: "The role of patients is not simply to criticise or demand; they have expertise and know the system and the gaps in it. We need to bring every stakeholder to work together on this problem and this is why NPO and EPF are launching the European Access Partnership. The aim is to have concrete actions now to provide patients with better outcomes."
For more information, please contact EPF Director Nicola Bedlington at nicola.bedlington@eu-patient.eu.