Policymakers support EPDA's Consensus Statement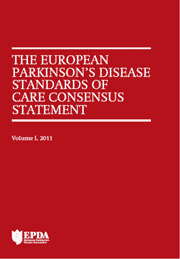 The European Parkinson's Disease Association (EPDA)'s The European Parkinson's Disease Standards of Care Consensus Statement, has been read, supported and endorsed by European policymakers since its launch last year in the European Parliament.
The guideline describes for the first time how people with Parkinson's should be managed and highlights the areas that need to be focused on in order to effect change. "There has been little progress in the definition of parameters of good-quality care in Parkinson's disease – until now," said Iglesia-Gomez, high-profile European Commission official in public health and health innovation policy. "The Consensus Statement proposes practical strategies that can help improve Parkinson's standards of care across Europe. Such a document could not be timelier for our ageing European population and fits very well with the European Commission's current focus on active and healthy ageing."
MEPs Linda McAvan agreed, adding: "The Consensus Statement succinctly and clearly paints a very stark picture: that Parkinson's is a disease that needs to be given greater visibility and awareness. It provides clear direction on the positive steps that can be taken by policymakers to improve the treatment and management of this chronic neurodegenerative condition."
The Consensus Statement can be downloaded here and for print version, please
email info@epda.eu.com.
For more information, please go on EPDA website or read the press release about the statement.