Report from the European Communication Summit's Health Working Group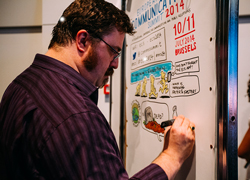 For the first time, EPF took part in the European Communication Summit on 9-11 July in Brussels, Belgium. Our Communication Officer, Cynthia Bonsignore, spoke at the working group dedicated to health about "Storytelling is the new black: what should communication in the healthcare sector really look to meet patients' needs?"


The European Communication Summit is an annual two-day-conference in Brussels with the leading in-house communication professionals. Participants come from the fields of business, politics, associations and media from all over Europe.
Ms Bonsignore explained to the working group's audience that "all patients – no matter their condition, background or nationality – have a legitimate right to access information about their health. This includes their medical conditions and diseases and all available treatment options both pharmacological and non-pharmacological. It is a question of solidarity, equity and patients' rights."
Information to patients is not only about medicines, but an all-embracing approach to information, including therapies, self-management, quality of life, lifestyle, social and peer support, patient education and reimbursement options. EPF has repeatedly called for a comprehensive, EU-wide strategy on information to patients including (e-)health literacy.
She further continued: "The aim of information to patients must be to foster patients' empowerment, and enable them to take on an active role in their own health and healthcare. As highlighted in our 2014 EU Elections Campaign, well-informed patients are an asset to society. They take greater responsibility for their health and medical treatment, self-manage effectively, and use health resources in an optimal way."
For more information, please contact EPC Communication Officer Cynthia Bonsignore at cynthia.bonsignore@eu-patient.eu.
Picture credits: European Association of Communication Directors, illustration of 'drawnalism', 2014