Second phase of the Capacity Building Programme in Romania and Hungary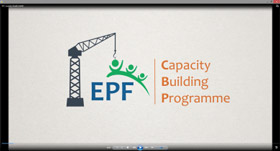 EPF will launch the second phase of our Capacity Building Programme in Romania and Hungary. While the first phase was about strategic planning and organisational capacity assessment, the second phase is much more implementation-oriented. For their part, patient organisations from Slovakia and Bulgaria are starting with the first phase.
Ten patients' organisations in Romania and Hungary will benefit of the second phase of our Programme. It consists in providing training related to operational planning to the patient organisations involved in the programme. We will also assist them in developing the first annual plan implementing the Strategic Plan developed and agreed for each organisation in the previous phase of the Programme.
"Operational Planning emerged as a major need in both countries. Organisations requested support to be able to implement the strategic plans with clear operational objectives aligned with the strategic goals" said Liuska Sanna, EPF Capacity Building Programme Manager.
Local experts will train the organisations with a two-day face-to-face course followed by a three/four month coaching period.
The ten patients' organisations highlighted the importance of developing and implementing consistent annual plans with clear operational objectives, activities, and resources correlated with the strategic goals and the missions defined in the Strategic Plan. They will also develop the necessary skills to produce such a plan for 2014, but also on how to assess it and plan resources.
First phase in Slovakia and Bulgaria

The first phase officially kicked off on 25 November in Slovakia with seven patient organisations, including EPF's local member the Association for the Protection of Patients' Rights. Ten Bulgarian patients organisations, including the two EPF's members the Confederation Health Protections (KZZ) and the National Patient Organisation (NPO), are also ready to start with the kick-off meeting taking place on 17 December.

Likewise Romanian and Hungarian organisations that joined the programme last year, in this initial phase they will learn how to develop a strategic plan and benefit from a comprehensive organisational capacity assessment process that will inform the shaping of the next phases of the programme.
To get a glimpse ofthe EPF Capacity Building Programme in three minutes, please watch this short video.

Related Information

Watch the Programme in video!