See the EPF board on video!

We are proud to present you our new board on video! Discover what they would like to bring to EPF from their own experience and what is their main concern within EPF to help driving better health for patients in Europe.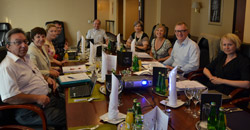 Our new Board was elected in April at our Annual General Meeting. EPF members voted in Anders Olauson, nominated by the European organisation for Rare Disease (EURORDIS), Susanna Palkonen nominated by the European Federation of Allergy and Airways Diseases Patients' Organisations (EFA), Tomasz Szelagowski nominated by the Federation of Polish Patients (FPP), Avril Daly nominated by Retina Europe and Philip Chircop nominated by Malta Health Network. They maintain their previous appointments as Board members of EPF and the board voted Anders Olauson as President, Susanna Palkonen as Vice-president and Tomasz Szelagowski as Treasurer.
Current board members, Vida Augustiniene, Maria D. Navarro, Marco Greco and Robert Andrew Johnstone will continue their mandate for a further year.