Shaping a health literate Europe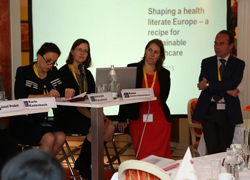 A new consensus paper on how to advance health literacy in Europe was launched on 4 October at the European Health Forum in Gastein, Austria. EPF contributed a patients' perspective to this joint document, developed by a broad policy coalition composed of the Standing Committee of European Doctors (CPME), the Maastricht University and MSD.
Tackling chronic diseases is one key challenge for the sustainability of European health systems. Patient empowerment is one of the key solutions identified by EPF in the consensus paper. Patients are increasingly expected to take a more proactive role in managing their health and need support to do so.
Health literacy is a dimension of empowerment: "For patients, the knowledge and competence gained through health literacy leads to the empowerment needed to manage well a disease and its impacts on quality of life", said EPF Senior Policy Adviser Kaisa Immonen-Charalambous at the Gastein workshop.
To make such genuinely informed decisions about their health and treatment, patients need accessible, reliable and understandable health-related information at European level. This is the reason why, among others, we call on decision-makers in our European Parliament Election Manifesto to adopt an EU strategy on patient empowerment, including an action plan on health literacy and high-quality information for patients on all aspects of our care.
Health literacy has also a critical relevance for health inequalities. Health literate people are more discerning about their health, make more informed choices and decisions, are more likely to seek earlier diagnosis and recover faster. This is why we also support an EU initiative on equitable access to healthcare for all European citizens in our Manifesto.
Our Senior Policy Adviser also reiterated the role of patient organisations and the importance of engaging patients collectively and proactively through these coalitions. They know how to develop information resources that meat patients' needs and can also play a highly effective role in identifying health literacy interventions that work for different patient groups in different cultural and social contexts.
For more information, please contact our Senior Policy Adviser Kaisa Immonen-Charalambous at kaisa.immonen.charalambous@eu-patient.eu.