Stepping up a gear on EPF Campaign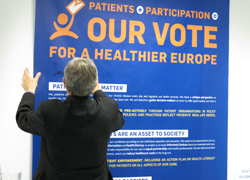 We are now stepping up a gear with our campaign entitled "Patients + Participation = Our Vote For a Healthier Europe" as the 2014 European elections draw closer. We just released a video featuring various stakeholders who support our campaign.
"There are so many people suffering from a chronic disease and their situation has to be addressed in a proper way with proper knowledge. The only one who has that knowledge is the patient; patients are part of the solution" EPF President Anders Olauson


"We have to give the patients the opportunity to help improving healthcare systems because it is not only good for patients but also for healthcare", says MEP Karin Kadenbach (S&D, Austria).
"The campaign of the European Patients' Forum is more than welcome because health policies is still a point in the European politics to be developed and that patients are often the weakest part of the chain" MEP Dagmar Roth-Behrendt (S&D, Germany)


"I support you and indeed patient empowerment contributes also to the success of the healthcare systems" Health Commissioner Tonio Borg
"The empowerment aspect of the EPF campaign is really important to us and that is why we support it full heartedly" Rebecca Muller from the Global Alliance of Mental Illness Advocacy Networks of Europe (GAMIAN-Europe)


"I absolutely welcome the EPF campaign as this is a strong preparation for the commitment of EU politicians in issues that have been for many years neglected" MEP Antoniya Parvanova (ALDE, Bulgaria)
"I am a medical doctor and a cancer patient and I think it is the most important goal for a politician to be committed about patients, health and prevention" MEP Susy De Martini (ECR, Italy)


"I think it is very important to put the voice of patients at the hearth of the European elections. After all, politicians are patients themselves" Heather Clarke from the European Parkinson Disease Association (EPDA) PDA.

This campaign is an opportunity for patients to be heard by the candidates and to help them to set the priorities for the new parliamentary session.
More information about the campaign is available here: http://www.eu-patient.eu/whatwedo/EPFCampaign2014Elections/.
Please sign the EPF Manifesto to support our campaign: http://www.eu-patient.eu/whatwedo/EPFCampaign2014Elections/I-support-EPF-Campaign/.
For more information, please contact EPF Communication Officer Cynthia Bonsignore at cynthia.bonsignore@eu-patient.eu.