The European Cancer Patient's Bill of Rights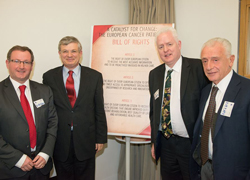 The 4 February 2014 marked the World Cancer Day. Patient advocacy organisations, healthcare leaders and Members of the European Parliament against Cancer (MAC) have chosen this day to launch the European Cancer Patient's Bill of Rights, in the European Parliament in Strasbourg.
The initiative is led by the European Cancer Concord (ECC) and is a call to action to address the significant disparities that exist for European cancer patients today. Among the speakers at the launch was European Commissioner for Health Tonio Borg.
"This increasing cancer burden will impact not only on patients and their families, but will also be a significant issue for healthcare systems and for the future economic competitiveness of Europe," said Prof Patrick Johnston, Co-Chair of ECC and Dean of Medicine, Dentistry and Biomedical Sciences at Queen's University Belfast, UK.
"Launching the Bill of Rights at the European Parliament on World Cancer Day represents a clear indication of our will to focus attention on the unequal nature of cancer care in Europe, to engage and influence political representatives and most crucially to empower every European citizen to use the Bill of Rights as a catalyst to achieve effective change in cancer care delivery in their own country/region" added Prof Mark Lawler, ECC Project Lead, based at Queen's University Belfast.
Significant differences in cancer incidences and mortalities are evident within Europe, reflecting inequalities in access to optimal cancer care between different national cancer healthcare systems. "The European Cancer Patient's Bill of Rights is a Patient Charter that aims to address the inequalities that cancer patients in Europe face every day linked to socioeconomic status, patient age, access to quality care and lack of a comprehensive National Cancer Control Plan," said Francesco de Lorenzo, ECC member and President of the European Cancer Patient Coalition (ECPC).
"Patients must be at the heart of all healthcare to improve outcomes", says Jan Geissler, cancer survivor for 12 years and Director of the EPF-led 'European Patients Academy on Therapeutic Innovation' (EUPATI). "European cancer patients, specifically those with rare cancers, have unmet needs and face inequalities. The European Cancer Patients' Bill of Rights is an important step to further empower patients when difficult decisions have to be made. To make progress in cancers, patients must lead the way."
For more information, contact Jan Geissler, EUPATI Director at jan@patientsacademy.eu.
*Picture credits: European Cancer Patient Coalition (ECPC); From left to right Peter Selby, ECC and University of Leeds, UK, EU Commissioner for Health and Consumer Policy, Tonio Borg, Mark Lawler, ECC and Queen's University Belfast and Francesco de Lorenzo, President of the European Cancer Patient Coalition