The future of eHealth is already here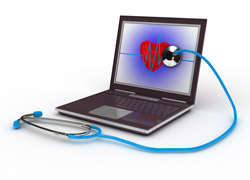 In an effort to ignite the innovation and economic growth through sustainable health care delivery, Microsoft has organised a forum on "Innovating for Better Health: Doing New with Less" on 4 December 2012. Walter Atzori, EPF Senior Programme Officer, attended the event to provide the patients' and citizens' perspective on the benefits and limitations of using ICT.
"Our Health systems have not evolved to respond to the modern environment and are no longer fit for purpose. The patient community truly believes that eHealth solutions and services, if properly designed and implemented, are part of the solution to current healthcare challenges" started M. Atzori.
There is no doubt that a key pre-condition for adopting eHealth is that both patients and professionals must trust the technology to be safe and effective. Building confidence in eHealth is, however, not just about having trust in the technology itself. Too often we look at eHealth as a mere technological innovation in healthcare and have narrowly looked at the relationship between users and technology to identify barriers to acceptance. Elements such as human interaction, changing relationship between patients and health professionals have been largely side-lined, if not entirely neglected, while there is sufficient evidence suggesting that these factors are actually crucial to building confidence and trust.

This is why we need therefore to invest resources in supporting all user groups in acquiring the skillset required by new interaction and ways of communication arising from the use of eHealth, as well as new roles and responsibilities involved.

At the very core of eHealth solutions are therefore the needs of patients. Only if patients are regarded as equal partners in this process can ICT and innovation in general deliver on its promise of making our healthcare systems more effective, efficient, and equitable. We do acknowledge that involving patients in health innovation may sometimes be a complex and costly process. Evidence shows, however, that the costs of NOT involving patients in these processes largely outweigh the "cost" of involving them. Patient involvement in developing eHealth solutions is also key in closing the gap between innovation and market, and between market and patients, which is still a major issue the eHealth industry is currently facing.

"There is an urgent need to identify and share good practice in user-driven innovation as this is still an untapped resource. A genuine cooperation between patients, health professionals and industry is therefore much needed" concluded Walter Atzori.

For more information, please contact walter.atzori@eu-patient.eu