Up and running EPF Capacity Building Programme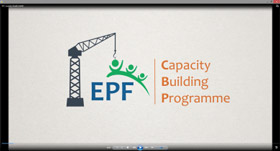 The EPF Capacity Building Programme will continue to support our members in 2014. Slovakian and Bulgarian patient organisations initiated the first phase while Romanian and Hungarian groups continued, building on their strategic plans. EPF European-level members will benefit from a training module on fundraising that will be implemented in summer 2014.
Slovakia and Bulgaria followed Romania and Hungary to join the EPF Capacity Building Programme. Representatives of seven Slovenian organisations launched the programme on 25 November 2013 in Bratislava and the ten Bulgarian patient groups launched it on 17 December is Sofia.

Each organisation has set up a working group who will lead on the strategic planning process. Carefully recruited experts are supporting them to collect material to inform the environmental analysis which provides the groundwork for the development of the strategic plan.

Romania and Hungary completed the first phase in late 2013 and have now entered the second phase. It has already started for Romanian groups in mid-December and Hungarian groups will follow with a kick off meeting in Budapest on 14 February.

These patient organisations will receive training to enable them to plan operationally and develop the first annual plan implementing the Strategic Plan developed in the previous phase of the Programme.

With European organisations we will continue working with Fertility Europe and IDF-Europe to support them in developing their strategic plan. A training module on fundraising will be implemented in 2014 summer and it will be open to all EPF European-level members.

Fundraising was identified as a primary urgent need for all organisations. This training module will be thoroughly evaluated. Results of the evaluation will inform the development of new training modules that will be delivered in the 2014+ years (one per year).

Thematic areas are likely to be advocacy, communication, public relations and project management.

The programme initially provided for the 2012-2014 period is set to continue after 2014. We will evaluate the outcomes of the programme after 3 years of implementation to see how to actually mainstream the CBP in the long run.
See what the programme is all about on video

!

For more information, please contact Walter Atzori (walter.atzori@eu-patient.eu), Senior Programme Officer or Liuska Sanna (liuska.sanna@eu-patient.eu), EPF Programme Manager.