Watch our Video Campaign for the 2014 EU Elections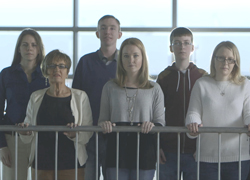 With the European Elections every five years European voters get the opportunity to have a say on what is important to them. 2014 is the year we ask politicians to break down access barriers to healthcare to empower patients to be part of healthcare solutions and build health systems that are more effective and quality-oriented.
Discover our campaign video where 10 patients participate to bring a powerful and real-life perspective. They are patients who know what works best for them and they want to vote for a Healthier Europe like the 150 million patients who will vote at the 22-25 May 2014 European elections.
<
Your engagement in the campaign is key!

On 6 February, 2014, EPF hosted a webinar with our members to explore how patient organisations can get involved in the campaign. If you want to get involved in this patients' campaign too, here are the different tools that you can use:
Hashtags #patientsvote and #epf2014 are used on Twitter (@eupatientsforum) to keep the campaign alive.
Pictures of your activities in relation with the campaign on Facebook can be posted on Facebook (https://www.facebook.com/EuropeanPatientsForum)
Copies of our Manifesto can be distributed within your own network as we translated it in all 24 EU languages and they available online in PDF format.
Campaign videos are disseminated on our YouTube channel to make sure the campaign messages keep on being circulated.
A toolkit was created to help cascade the campaign messages through their own networks.
Background papers were developed to embed the campaign messages in deeper details for your information if you wish to further commit to EPF work.
The best way to show your commitment to our campaign is to sign our Manifesto and encourage the politicians you meet to do the same.
Our campaign exhibited at the European Parliament

EPF is bringing the campaign to the heart of European democracy by presenting an exhibition in the hall of the European Parliament in Brussels on 17-20 March 2014 (Forum Area, 3rd Floor) hosted by MEP Dagmar Roth-Behrendt (S&D, Germany). The objective is to encourage the Members of the European Parliament going for re-election to sign the EPF Manifesto and therefore commit to including a patient perspective in their work for the new parliamentary session.
You will find the formal invitation in the right-hand column of this page.
We are also preparing personalised correspondence to be sent to all candidate MEPs throughout Europe, in collaboration with our member organisations, to reinforce our key messages at both national and European level.

More information about our campaign is available on our website: http://www.eu-patient.eu/whatwedo/EPFCampaign2014Elections/.
You can also contact EPF Communication Officer, Cynthia Bonsignore, at Cynthia.bonsignore@eu-patient.eu for more information or to register to our cocktail reception at the European Parliament.

Related Information

Invitation Exhibition European Parliament (17-20 March 2014)