Welcome Brooke!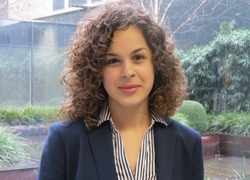 EPF welcomed Brooke in February 2014. She will be working as a volunteer assistant for the EPF 2014 EU Election Campaign until the end of June 2014.
Brooke has an extensive background in health. She received her Bachelor of Science in Nutrition from Long Island University in New York and has worked previously as a health and fitness coach. Brooke looks forward to using her experience in individualised health empowerment to aid the collective empowerment of patients throughout Europe with EPF.
To see the entire Secretariat team, please visit this page.