Building our members' communications capacity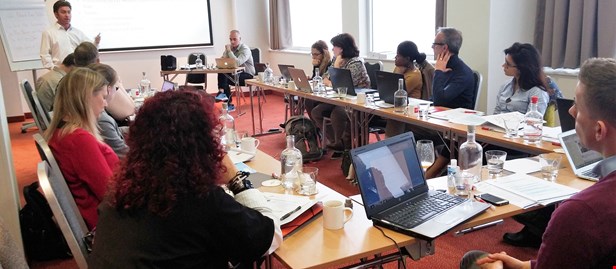 How can patient organisations use communications strategically to support their advocacy work? The training module on strategic communications that EPF organised on 21-23 September 2015 aimed to answer to this question.
Organised within the framework of the EPF Capacity-Building Programme, this year's training module was resolutely practical. During the first two days, the 12 participants worked relentlessly to develop their own project, a social media strategy or the development of an upcoming policy campaign.
"The training exceeded my expectations as it was both practical and focused with much valuable information on social media", said John Kidney, representative of ENUSP, the European Network of (Ex) Users and Survivors of Psychiatry. "Our organisation has members in some 39 countries both within and outside Europe. (…) Social media fora such as Facebook and Twitter are cost-effective and efficient methods of, not only connecting with our members, but also of getting our message across to the general European public and in influencing public and political opinion."
On the morning of the third day, the 12 participants were put to the test: they had five minutes to pitch their project idea and convince a jury of three experts, who pointed out the strengths and weaknesses of their work.
"In a competitive market place, building a strong online presence is essential for any not-for-profit organisation to mobilise supporters. But doing it well and extracting value from it is something different", said Laurence Woollard from Haemophilia UK. "Most notable was understanding the challenges not only experienced when setting up an online community, but what it will mean when things progress and what to look out for and manage when it gets to a greater level. I have since put all the things I learnt in the workshop into planning an online youth network for Haemophiliacs through a series of vlogs."
Beyond the learning experience, the three day meeting was also an opportunity for the different participants to network. "It is always nice to exchange experiences and help each other out, because we are all trying to achieve great things for our organisations", commented Lore Dupont from the Flemish Patients' Platform. The participants will now go home and work on the implementation of the projects developed, aware of the potential impact of the tools they have at their disposal. "Social media is not geeks' stuff", said one of the trainers. Clearly the training demonstrated that.
Contact: Camille Bullot, EPF Membership Officer (camille.bullot@eu-patient.eu)