Launch of the first Patient Expert Training Course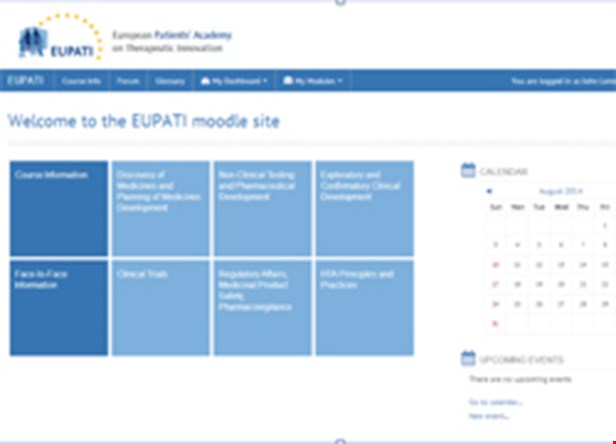 On 6 October 2014, 53 trainees started the first Patient Expert Training Course of the European Patients' Academy, EUPATI, which will continue until late 2015. This is one of the project's key educational programmes specifically designed for patient advocates who want to acquire expert-level knowledge in Research & Development. Two 'students' share their first impressions with EPF.
How did you find the course so far, what are your first impressions?
"Kick-off was great. The team showed us the technical side of the platform as the course uses a blended learning approach of online and face-to-face training. I love the materials; they are very understandable and useful for me. Some first questions are asked for the tutors on the participants' forum and they answer quickly. This is very helpful. I had a first look into the plans and the modules and the content I knew, this will be exciting" – Birgit Bauer from Germany.
"I started reading Module 1 right away. It's about the discovery of medicines and how the planning of medicines development. I have learned about molecules, receptors, about protein, etc. It makes you comprehend the very basics of medicine development. Besides being user-friendly, the online format allows me to study whenever I feel like it. For a lot of patients it is hard to follow regular classes, because unexpected hospital visits are part of our life. This course fits around my schedule, instead of the other way around" - Kate Sparkles from The Netherlands.
What do you expect from this programme?
"I hope to be a better patients' advocate and, as journalist in the healthcare area, I want to acquire more know-how to explain my readers content about the medicines development process" – Birgit Bauer from Germany.
"This course will give me the opportunity to understand researchers better about various aspects of their work e.g. their clinical trial. As a communication consultant, it is very exciting to bridge the gap between researchers and patients. To me, sharing information is the ultimate form of patient advocacy. My understanding of scientific articles has already improved, enabling me to write more of those often very complicated articles in lay man's words. And that's only the beginning!" - Kate Sparkles from The Netherlands.
More information: www.patientsacademy.eu and http://walls.io/eupati