Patient MedTech Dialogue meeting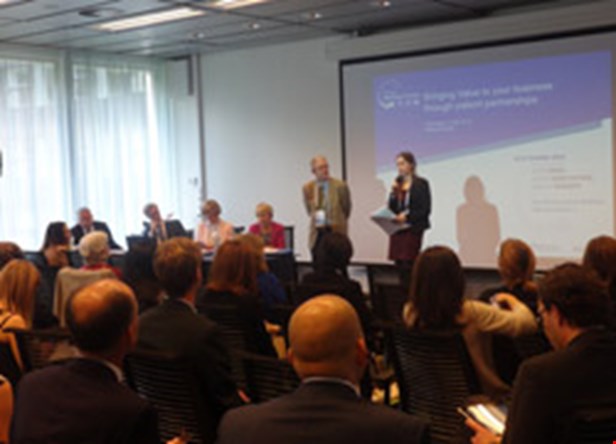 On 15 October in Brussels, EPF and the MedTech Industry held their 8th Dialogue meeting. An important item on the agenda was the release of a patient-centered checklist for companies to better involve patients in the medical devices sector.
"Bringing value to your business through patient partnerships" was the theme of one of the sessions of the MedTech Forum the largest yearly meeting of the medical technology industry. The Patient-MedTech Dialogue was held the day before the MedTech Forum to ensure patients' representation at both events.
This was the opportunity to launch the 'checklist' developed by patients and industry representatives in a task force. This tool was produced as an outcome of the Dialogue and showcases the importance and relevance of anindustry that is patient –centred not only in words but in deeds.
Speakers included Audrey Craven, President of the European Federation of Neurological Associations, who explained why companies should work towards fulfilling patients' unmet needs, and listen to patients: "All medical device and IVD device companies should take into account the needs of the patient. Companies are increasingly positioning themselves on the full patient pathway and disease management. Therefore, further interaction with and empowerment of the patient, in addition to the healthcare professional, will become the new paradigm."
"Open and transparent dialogue between patients and the MedTech industry is key to ensuring that medical devices companies really do put patients at the centre of their work, and draw on patients' unique experience and expertise as a partner for innovation and safety", concluded our secretary General Nicola Bedlington.
Contact: Laurène Souchet, EPF Policy Officer, laurene.souchet@eu-patient.eu