Strong Patient representation at European Health Forum Gastein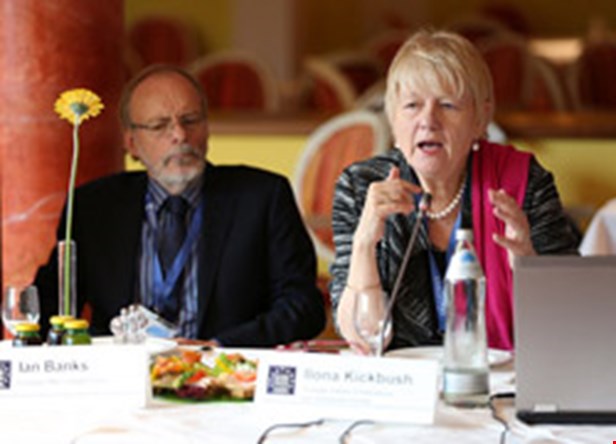 The European Health Forum Gastein (EHFG) was held on 1-3 October 2014 in Austria. Many patients' representatives were prominent at this important European health policy event, and not only in the 'patient-focused' sessions. The 17th EHFG was themed "Electing health – The Europe we want!" reflecting May's EP election.
A full and detailed report will be made available soon from the EHFG secretariat. The following gives a flavour of some of the debates. EPF organised a workshop on patient empowerment on the second day of the event. Presenting the conclusions, EPF Secretary General Nicola Bedlington reiterated the concept of 'co-production of health' as "patients want to be full partners in the management of their condition and need to be empowered to be able to do so."
Empowerment and access
Ilona Kickbusch of the Careum Foundation (pictured, right) in her keynote address to set the scene focused on the need to democratise health in relation to equity and access. She stated: "We are at a turning point in health policy: the nature of 21st century health, changes in society and technology call for a radical change of mindset and a reorganisation of how we govern health. This changes the role of the health sector, health professionals, patients and citizens – as well as others including the private sector."
Our Board Member Stanimir Hasurdjiev of the Bulgarian National Patients Organisation pointed out the strong link between access and empowerment two core pillars of the EPF European election campaign. He presented the Patient Access Partnership, a patient-led multi-stakeholder platform to address equity and access to health care across the EU that will formally kick-off in December 2014.
Empowerment and health literacy
The importance of health literacy, one of the key tenets of patient empowerment, was also stressed in a session on this theme, alongside the patient health professional relationship and self-management. Pēteris Zigalvis of DG Connect said the European Commission is currently involved in a project that tries to develop web-based skills in the workforce. The importance of this was highlighted in EPF's own project EPF Chain of Trust focused on patients' and health professionals' trust in and acceptance of ehealth services.
A Eurobarometer survey on ehealth will likewise be launched soon. According to this review, 77% of EU citizens agree that the Internet is a good tool to improve their knowledge on related topics (link). Encouraged by these results, our Senior Policy Adviser Kaisa Immonen Charalambous nevertheless stressed the importance of "distinguishing what is good and trustworthy information, and what is not, because we are bombarded with so much information, overall on the Internet."
In the closing plenary session Nicola Bedlington emphasised that primary prevention, health promotion and patient-centred chronic disease management should be part of one continuum. Effective prevention can free up resources to provide healthcare for patients, while proper investment in high-quality chronic disease management can maximise patients' quality of life, reduce the disease burden and optimise the use of healthcare resources.