Young Patients present at Yo! Fest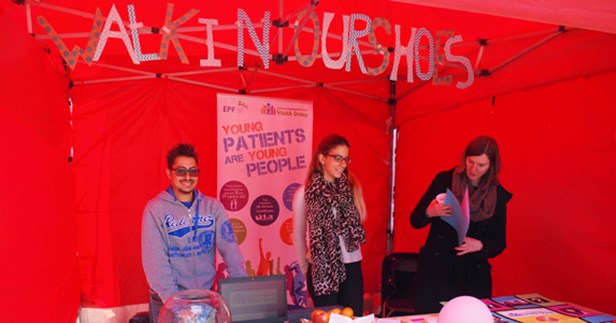 On 6 May 2015 the EPF Youth Group participated in the Esplanade of European Parliament at the Yo!Fest, a yearly youth event organised by the European Youth Forum. Two members of the group represented EPF at the event: Polis Stavrou of Cyprus and Marlou Schenk of The Netherlands.
The Youth Group was there to raise awareness about chronic conditions from the perspective of young people. They involved the visitors in fun activities such as a board game where people had to guess the conditions of celebrities. "This was a fun educational activity, that helped us explain that anyone could live with a chronic condition and still can have a great life", Polis said.
"I found out that there are a lot of people who don't know much about chronic conditions. For example, when someone meets me, they think my life is all unicorns and rainbows. When they learn I have a condition, then they suddenly think my life is all dark clouds and death. But there is a grey area in between where patients can enjoy life and have fun. Hugs and Kisses!" Marlou
Spring meeting
Following the Yo!Fest, the Youth Group gathered in Brussels for the Spring Meeting on 9-10 May. The goal of this meeting was to prepare the Youth Group members for future activities such as communications, Erasmus + project proposals and strategies to improve cooperation between young patients from all over Europe.
Contact: Valentina Strammiello, Programme Officer, valentina.strammiello@eu-patient.eu or youthgroup@eu-patient.eu.