Ball is in Council's court to end health discrimination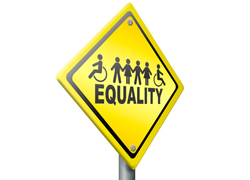 The multiple forms of health and other discrimination faced by patients with chronic diseases and vulnerable groups, as well as the political commitment needed to combat this, were the focus of 'Health in Europe, making it fairer' – a landmark conference organised on 18 March 2014 by DG SANCO in Brussels. Our Board Member Robert Johnstone represented EPF at the event.This conference comes during a transition period for Europe with the elections for the European Parliament happening in two months. In our election manifesto, we call on candidates for the European Parliament to commit to breaking down access barriers, as access also means non-discrimination.

The European Public Health Alliance (EPHA)'s manifesto encourages the future Parliament to create an inclusive, sustainable society. It urges MEPs to push for the adoption of a Council Directive on the principle of equal treatment between persons irrespective of religion or belief, disability, age, sexual orientation, gender, race, type of condition, social status, education, or country of residence.
The conference sends a strong message to the Council of Ministers to break the gridlock and swiftly adopt the Directive. "EU and Member States' equal treatment legislation should protect patients and citizens from discrimination based on health status or chronic conditions in all areas of their life, as they are often left unprotected by the law," said EPF Director Nicola Bedlington.

Europe has a long way to go if it is to live up to its pledges to improve the health and living standards of people living on low income and individuals with chronic diseases. The fight against health inequalities and the skyrocketing rates of poverty among people with disabilities or chronic conditions must be at the heart of the Europe 2020 Strategy.

"We think it is the fundamental goal of healthcare is to support every patient in achieving the best possible health outcome and quality of life and to enable them to take their rightful place in society. Evidence that there is discrimination in healthcare is compelling and this human rights issue calls for strong and collective response from the EU: we believe a joint action on discrimination would be an important step forward to ensure we make health fairer" said EPF Board Member Johnstone. This perspective is also shared by EPHA and we will continue to work together on non- discrimination.
Please read the full version of the joint EPF/EPHA press release here.
For more information, please contact EPF Director Nicola Bedlington at nicola.bedlington@eu-patient.eu.