EPF campaign for the 2014 EU Elections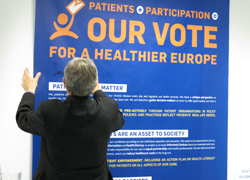 On 1 October 2013, we launched our campaign entitled "Patients + Participation = Our Vote For a Healthier Europe" ahead of the 2014 European elections. The invaluable presence and support from Health Commissioner Tonio Borg and MEP Dagmar Roth-Behrendt (S&D, Germany) made this event a resounding success, hopefully to be followed by many others.
In his welcome address, our President Anders Olauson said: "These elections are a big milestone for patients in Europe. We know from our members throughout Europe that the challenges patients constituencies are facing are enormous. Fundamental inequalities and lack of access prevail, even more as our population ages. We need to ask ourselves what kind of society do we want, for us, and for the future -and health is absolutely central to this. This is what we fight for in our Campaign and Manifesto."
In response to our Manifesto's recommendations, the Commissioner Borg stated: "I fully agree with you that patients' views matter and that empowered patient are an asset for the economy. Indeed patient empowerment contributes to the success of healthcare systems. (…)However, there is still no consensus among Member States on the advantages of, and barriers to, patient empowerment.

This is why the European Commission is currently mapping patient empowerment initiatives in Europe. I hope to see the results before summer next year; so that we can have an informed discussion at EU level." (Full speech available here,

)
"Patients are the most important allies in health policy. Why aren't they taken like that?" asked MEP Dagmar Roth-Behrendt (S&D, Germany). She raised the issue of Member States' discrepancies ininvestment in public health. She also added, referring to EPF's recommendation to ensure that patients' rights is part of the next health Commissioner's portfolio, that Member States must be on board for this to be successful.
The launch event was the start of the campaign. We will continue to work hard on galvanising a high level of support among policy makers for our Manifesto right up to the EU Elections on 22-25 May 2013.
You can show your formal support to our initiative by filling the online form and sharing this link through your networks; keeping the discussions alive on Twitter using #patientsvote and #epf2014 hashtags; including the campaign messages through your events and representation work.
Please contact Cynthia Bonsignore, EPF Communication Officer, for more information: cynthia.bonsignore@eu-patient.eu.
Picture: Commissioner Borg – First to sign our Manifesto!