EPF's advisory role in a new integrated care European project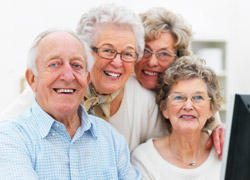 SmartCare will take the deployment of integrated health and social care for older patients and supported by Information Communication technology (ICT) to an unprecedented level. This new European project will officially kick-off on 4-7 March in Trieste, Italy for a three-year term. The idea is to build evidence from pioneer regions and to scale these up elsewhere. SmartCare is without any doubt innovative in terms on scale of population reached. As Europe's population ages, the way we support older people has to change. For citizens with actual or potential health problems, the maintenance of optimal health depends not just on healthcare services, but on support for social care (nutrition, hygiene, mobility, etc.) and other aspects of daily living. The overall idea of the project is to use ICT to integrate both healthcare and social care to tailor these services to individual needs of the patients.
EPF will ensure the project takes into consideration the interests of older patients. As member of the User Advisory Board, we will provide the expertise and genuine patients' prospective drawing especially on the conclusions of our flagship conference on the rights and needs of older patients. We will also feed our work into the knowledge acquired through the Innovation Partnership on Active and Healthy Ageing.
The project raises the bar thanks to the quality and quantity of data that will be collected. Actual use of ICT in support of such integration has been piece meal through the EU which has not enabled the aggregation of information. The new knowledge produced by SmartCare will lead to the implementation of guidelines, evidence on the benefits and sustainability of integrated care service for older people, business cases adapted to the different Health and Social Care contexts present in the pilot sites, etc.
Finally the regions participating in the SmartCare project will serve as a prime example for further scale up. They are among the most advanced in Europe and the basic functionality of the technological platforms will be the same for all the pilots' sites. This will enable comparison and aggregation of results across different pilots. It will also allow for an effective sharing of best practice between regions which have actually run pilots and other regions which have not to foster the deployment of such innovative technologies.


More information on the project: SmartCare page