Our Roadmap for Sharing Clinical Trial Data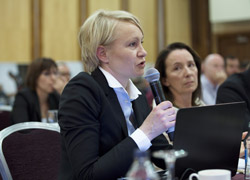 Our Vice-President Susanna Palkonen attended the workshop "A Roadmap for Sharing Clinical Trial Data" on 27 August 2013 in Brussels. She clarified EPF position in terms of data confidentiality for patientsand particularly on commercial confidentiality as this was at stake in the debate.
Patients are increasingly becoming active participants in their own care. To help patients to make fully informed decisions in partnership with their health professionals, it is vital that both clinicians and patients have access to all the relevant information needed to make those decisions.
It is estimated that the results of half of all clinical trials ever conducted have never been published, and those with positive results are twice as likely to be published (Source: www.alltrials.net). Our Vice-president reiterated at the workshop that "Since the beginning of our involvement with the EU clinical trials legislation, we have called for the publication of all results of all clinical trials in a timely manner, regardless of the outcomes."
The arguments for data sharing are compelling: it is a moral imperative and demonstration of respect for the trial participants who volunteer and take risks by participating in trials. "The data from trials can be seen as being the property of the participants, and by extension the wider society they represent – not to be 'owned' by anyone, whether academic institutions or commercial companies", Ms. Palkonen continued.

How best to share clinical trials data is a complex question which requires reflection with all the stakeholder groups to consider the implications and potential consequences. As a patients' umbrella organisation, we are committed to participating in public debates at the European level. We are currently trying to identify solutions with our membership that serve both scientific and public health interests, while affording appropriate protections to trial participants and generating public trust in science.
For more information, please look at our policy section on clinical trials or contact EPF Senior Policy Adviser Kaisa Immonen-Charalambous at kaisa.immonen.charalambous@eu-patient.eu.