Susanna Palkonen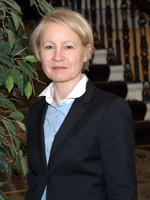 Susanna Palkonen is the Director at the European Federation of Allergy and Airways Diseases Patients Associations (EFA). Her role at EFA is to support and lead the team and facilitate the work of the Board, in collaboration with EFA's Deputy Director.
Susanna has worked in the allergy, asthma and COPD patient movement for over 15 years, and since 2002 for EFA. She studied social policy and her expertise in EFA disease areas, advocacy, stakeholder collaboration, fundraising and integration of patient perspective has built over the years.

As EFA, she is a member of many initiatives, such as the Horizon 2020 Scientific Panel for Health and as EPF, of the European Medicines Agency Patient and Consumer Working Party and has co-authored several papers with scientific partners in the field of allergy, asthma and COPD.
Being a patient with allergic rhinitis and atopic eczema, she is passionate about health and prevention from patients' perspective and that patients have a say in health, environment and research policy.