January 2015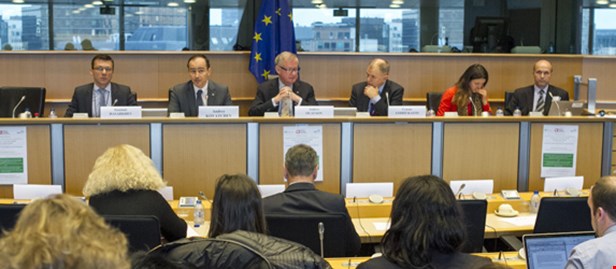 ENSURING EQUITABLE ACCESS TO HIGH-QUALITY HEALTHCARE FOR ALL PATIENTS
Access to healthcare was an important priority for EPF in 2015. We began the year with the launch of the European Parliament Interest Group on Access to Healthcare on 27 January.
MEP Interest Group on Access to Healthcare
The setting up of the Interest Group is a real milestone in putting access and equity issues for patients on the European agenda. On our blog, the interest group's co-chair, MEP Andrey Kovatchev declared that "The problems of patients deserve more commitment from the EU institutions! Therefore, the Interest Group on Access to health is set up to bridge health stakeholders with EU policy-making in search for solutions. EPF will provide the patients' perspective on health inequalities and access through our investment in the Patient Access Partnership and the Access Partnership.
"It goes without saying that I fully support the goals of this Interest Group" said Health Commissioner Vyteris Andriukaitis during the Interest Group launch event. "I want to highlight the importance of partnerships with all the relevant stakeholders. They are essential to gain insights on the ground and help with identification of barriers. The initiative launched by the European Patients' Forum is a good example of such mutually beneficial partnerships" concluded the Commissioner.
A Patient Access Partnership in Bulgaria
The Patient Access Partnership was extremely active throughout 2015 - read more in their 2015 Activity Report.
Just one example was the session on "addressing multimorbidity: how to make it work for the patient?" at the European Health Forum Gastein in October. The session highlighted that equity of access, alongside shared decision making and a patient centred approach are essential for the care of patients with multiple conditions.
On 26 March, Bulgaria launched the "Health Partnership" driven by EPF member, the National Patients' Organisation of Bulgaria. The Partnership is built on the model of the European Patient Access Partnership, and will advise the government on health related issues. It unites key government representatives of health institutions, representatives of professional unions of medical practitioners and care givers, patient organisations, industry, academia and health experts.
Access to quality healthcare is a basic EU citizen's right
While universal access is a well-recognised goal for all healthcare systems in the EU, this basic citizen right is not yet a reality for all patients in the EU. On 5 May, one year after the EU elections, EPF co-organised a roundtable on Universal Access to health with the European Generics Association (EGA), Doctors of the World, and the International Association of Mutual Benefit Societies (AIM), to ask MEPs to advance Universal access in the new EU political landscape.
On 6 November the European Patients' Forum provided comments to the expert panel on effective ways for investing in health as part of the consultation on the preliminary opinion on "access to health services in the European Union"
Contact: EPF Policy Officer, Laurene Souchet at laurene.souchet@eu-patient.eu