October 2016 – EPF's Blog, our Window for External Contributions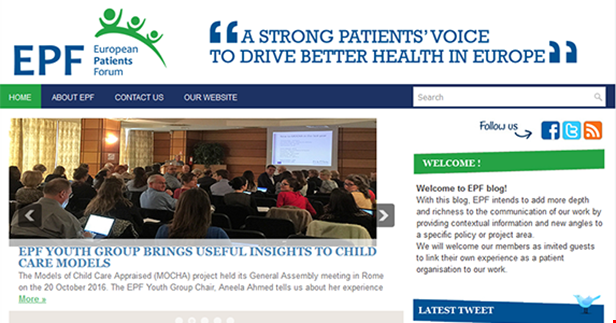 EPF's Blog is a great platform to demonstrate the exceptional work our members are doing for their respective patient constituencies. It is also a platform for guest external authors and other health stakeholders to share their stories.
In 2016 we have continued to share our members' successes and achievements in the dedicated section called 'Our members in the Spotlight'. In particular, five organisations had the opportunity to introduce themselves to the patients' community by answering to five short questions about their work, and their objectives and challenges. International Diabetes Federation Europe, Dystonia Europe, the International Federation for Spina Bifida and Hydrocephalus, the International Bureau for Epilepsy, and European Federation of Homeophatic Patients Associations were the ones contributing this year.
In addition, four other members used our blog to share important information of their ongoing and upcoming activities. For instance, the European Federation of Neurological Associations (EFNA) presented its campaign 'Together Under the Umbrella' aiming to raise awareness and educate society on the range and prevalence of brain disorders.
Mental Health Europe (MHE) did the same and used the blog as a platform to get people involved in the 'Each of Us' campaign. Under the tagline 'Each of us is part of the solution – Let's end mental health stigma together', to debunk myths, prejudices and stereotypes about mental health by providing simple figures and facts.
EPF's blog also featured interesting pieces of articles written by Parkinson's UK – the British member of the European Parkinson Diseases Association (EPDA – EPF member) –, by the Federation of Incontinent Patients; and by Portuguese patients' organisations.
We were also delighted to welcome guest editorials from the European Pharmaceutical Students Association (EPSA), the European Health Parliament, and from a cancer patient expert.
In 2017, we will continue posting articles on a monthly basis to give our members and partners the opportunity to share their activities and experiences with our readership. Stay tuned not to miss anything, and if you have a story to tell don't hesitate to contact us; we would love to welcome you as one of our 2017 guest authors!
Contact:
Camille Bullot, Membership and Stakeholders Relationship Manager
Laurent Louette, Communications Officer