Patient Empowerment Campaign: Closing Exhibition Framed High-Level Commitments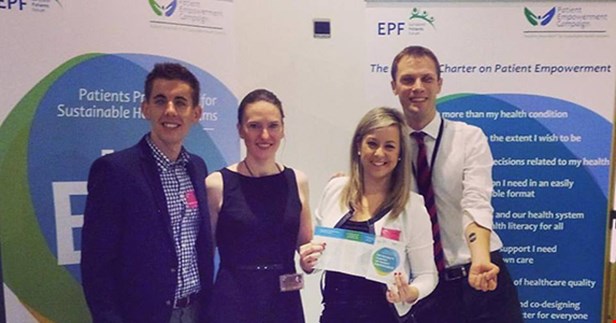 In conjunction with the plenary session of the European Health Parliament, EPF held an exhibition stand showcasing the outcomes of the Patient Empowerment Campaign. It was a beautiful opportunity to get commitments from high-level policy-makers and EU officials, and to mark the official end of the campaign!
A small delegation of EPF looked after a stand displaying promotional material about both EPF and the campaign. Our Charter on Patient Empowerment and our slogan 'Patients prescribe E5 for sustainable health systems' attracted much attention. Numerous participants paid us a visit, receiving info or updates about the campaign and promotional items: a temporary tattoo reading "I am empowered" and a practical powerbank to charge smartphones simulating the 'power' in patient empowerment were especially popular.
Our stand also included a sharing box, where many participants had their pictures taken, as a proof of their commitment to the campaign. As pictured below, Commissioner for Health and Food Safety Vytenis Andriukaitis, Belgian Minister for Health Maggie De Block, WHO Europe Director Roberto Bertolinni and European Commission DG SANTE Director General Xavier Prats-Monné came around and joined the cause. We were also happy to see several Members of the European Parliament, i.e. MEP Lucy Anderson (S&D, UK), Brando Benifei (S&D, Italy), Michal Boni (EPP, Poand), José Inácio Faria (ALDE, Portugal), Elena Gentile (S&D, Italy), Karin Kadenbach (S&D, Austria), Jean Lambert (Greens/EFA, UK), Miroslav Mikolasik (EPP, Slovakia), Alojz Peterle (EPP, Slovenia), Tibor Szanyi (S&D, Hungary), and Anna Záborská (EPP, Slovakia).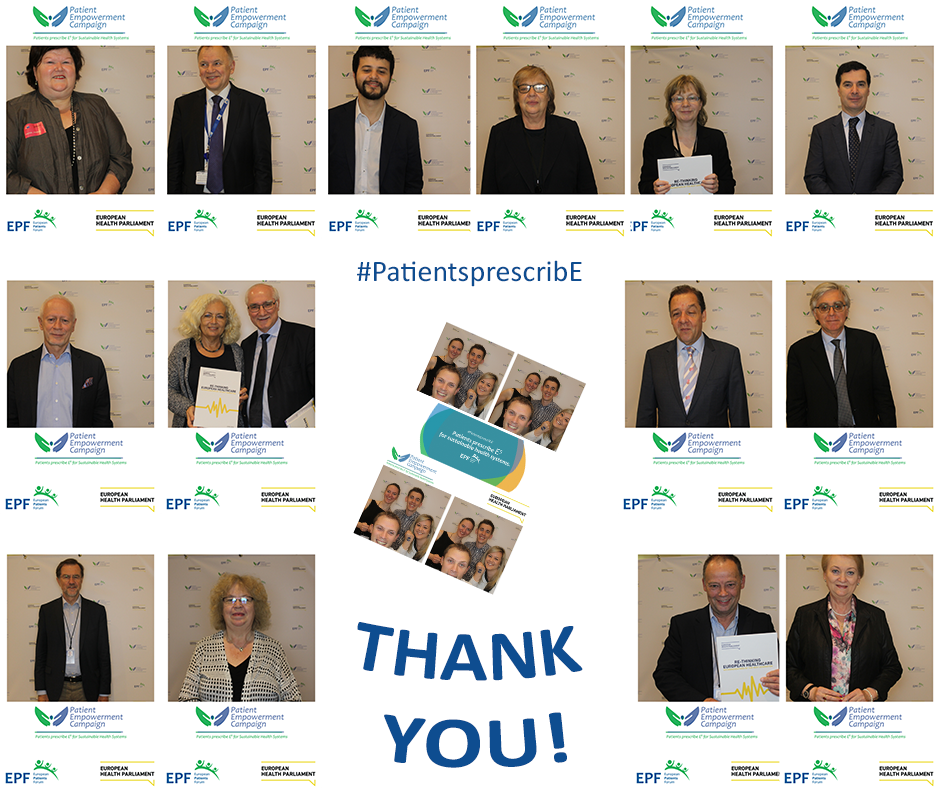 In short, it was a fun and informal way to end the Patient Empowerment Campaign. And all the support showed by high-level officials, stakeholders and friends only reinforce EPF commitment to continue to move forward on Patient Empowerment through our Charter and Roadmap. We shall keep you posted!
Contact persons:
Sara Gayarre, Communications Intern,
Laurent Louette, Communications Officer.