EPF Breakfast Briefings: A Great Way to Start Your Day!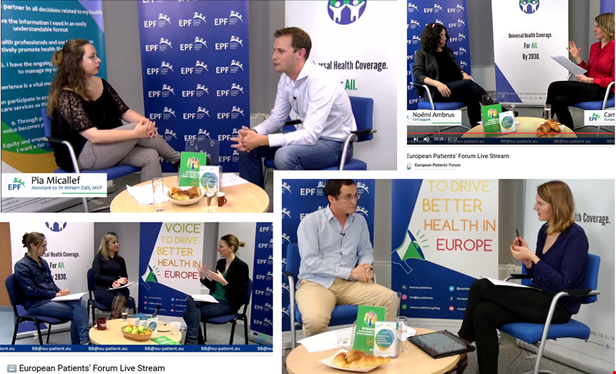 Earlier this year, EPF decided to propose an innovative way of communicating with members: the EPF Breakfast Briefings. These video podcasts are meant to help members to get the latest updates on European health policy and to receive practical advice to improve their organisation and skills.
What are the EPF Breakfast Briefings?
The EPF Breakfast Briefings consist in one-hour discussions recorded and streamed live via a private link to the EPF YouTube channel. The recording is then converted into a public video podcast and available to watch on demand. We select the topic of each Breakfast Briefing according to the feedback and requests from our members. The members also have the opportunity to ask questions and send comments online, during the recording. Our support team (EPF Communications Officer, Communications Assistant and IT Coordinator) moderate comments and discussions.
These interactive and lively briefings aim to offer EPF Members information, updates and practical recommendations on European health policy development and potential actions for the patient community. Some of the sessions are also conceived to share practical knowledge and advice with members, so they can improve the work and activities of their organisations.
What has been done so far?
EPF has held four Breakfast Briefings so far.
- EPF campaign on Access to Healthcare. The first edition of our Breakfast Briefings took place on 9 March and was dedicated to the EPF Access campaign. Katie Gallagher, EPF Policy Adviser, gave an overview of the rationale, objectives and milestones of the campaign; and Sara Gayarre, EPF Communications Assistant, presented the campaign material and explained how EPF members and partners can engage in the campaign and contribute to make Universal Health Coverage a reality for all. (Watch here)
- Transparency & Ethics for Patient Organisations. Noémi Ambrus, consultant & coach, visited our office on 27 March to share her expertise on a topic of real interest to our members. She gave several tips to improve transparency and ethics on patient organisations. (Watch here)
- Relationship with the European Parliament. On 7 July, EPF Communications Officer, Laurent Louette, welcomed Pia Micallef, Assistant to MEP Miriam Dalli (S&D, Malta). They discussed how patient organisations can interact with Members of the European Parliament to get their political support and boost their advocacy activities, and shared useful tips for anyone wanting to approach them. (Watch here)
- European Solidarity Corps. The special guest on 20 July was Manuel Gonçalves Gil, Policy Officer at the European Youth Forum. He joined us to chat with our Director of Operations and Engagement Camille Bullot about the European Solidarity Corps, an initiative recently launched by the European Commission. He shared his association's opinion about the initiative and addressed how patient organisations and young patients can benefit from it. (Watch here)
What's next?
The EPF Breakfast Briefings have proved to be very popular and valuable for our members, so we will continue organising more sessions focusing on the priorities of the EPF membership. We intend to do a few more before the end of the year, so stay tuned!
Contact details: sara.gayarre@eu-patient.eu.